Takeshi Tsuruno (つるの 剛士 Tsuruno Takeshi) is a Japanese actor, voice actor and musician, originally from Moji-ku, Kitakyūshū, and Fukuoka Prefecture. Takeshi Tsuruno is also his real name, though written in the kanji 靏野 剛士 instead. He is known for his roles as Shin Asuka/Ultraman Dyna in Ultraman Dyna, and as the leader of the musical units Shuchishin and Aladdin. As a member of Shuchishin and Aladdin, he appears regularly on the variety show Quiz! Hexagon II and his band's singles have appeared high on the Oricon Charts. He appeared again in Ultraman Saga.
Personal Life
Takeshi Tsuruno is married to his former stylist, Miki Endō (遠藤 美紀 Endō Miki) in 2003. The couple has five children: a son named Eito (詠斗, Eito), March 27, 2004 and three daughters named Uta (うた, Uta), January 6, 2006; Oto (おと, Oto), July 15, 2007; and Iro (いろ, Iro), November 6, 2009 and his latest son was born on June 6, 2016.
He named his albums after his daughters, and after recording his first album and before the birth of his third daughter he mused naming an album after his son such that it was called Tsuruno Mugendai (つるの∞(無限大).
Takeshi's hobbies are guitar, trumpet, fishing, and cycling.
Health issues
He was confirmed to have tested positive for COVID-19 on 27 August 2020. His other family members tested negative but were placed under self isolation.[1] As of March 2021, Takeshi has fully recovered from COVID-19.
Ultraman Dyna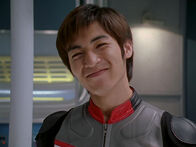 He made his first appearance in the Ultraman franchise in Ultraman Dyna from 1997-1998. His role in this series is as Shin Asuka (Ultraman Dyna's human host) a somewhat funny sport and his known motto "Never Give Up". His partner on the series is Risa Saito as Ryo Yumimura.

Roles
Stock Grunts
This section here refers to Takeshi's grunts being reused per stock footage on other Ultraman Series:
Gallery
Trivia
Eternal Links
References