Tablis (タブリス Taburisu) is a hippopotamus-like Kaiju that appeared in Ultraman Cosmos.
Subtitle: Alter-ego monster (分身怪獣 Bunshin Kaiju)
History
Ultraman Cosmos
Tablis was the first monster caught when founded at Yumekawa City. It later protect a little girl named Kana, whom can't escape from JADF soldiers. This makes the SRC developed for the first time. But after two years, when her popularity as a monster lover and her educational problems started, she began to move to another city and swears to come again 10 years.
Later, another Tablis appeared at Yumekawa city. Team EYES decide to capture it with TECCH Spinnar but it escapes and vanishes. It was revealed that the original Tablis uses it's illusion ability to find Kana again. Kana however, refuses since she finally lead a normal life and that she didn't want to return to her old life. Team EYES decided to create a hologram of her to Tablis. But later, the illusional Tablis reappear at Yumekawa city again. Though Team EYES use the holographic Kana on it, but the monster realize this trickery and it's holographic counterpart rampaged. Cosmos appeared but his attacks are easily phased though the giant finally trapped it in a bubble for a while. Cosmos Eclipse teleported Kana to Tablis where she apologizes to the monster for her selfish behavior. The illusion counterpart vanishes as the real one play with Kana.
Trivia
Tablis name was originally Doubles (ダブリス

Daburisu

), but this was changed for the purposes of trademarking the character, as generic words are generally ineligible for copyright protection.
Tablis shares the same ability and subtitle with Alien Guts.
Tablis' suit would later modified into Froguros.
Tablis appears to be heavily inspired by Daigoro.
Data
Tablis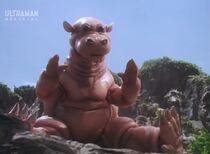 Stats
Height: 54 m
Weight: 59,000 t
Origin: Yumekawa City
Powers and Weapons
Illusion: Tablis can create an illusion of himself from faraway distance.
Gallery