Earth Peace Union TPC (Terrestrial Peaceable Consortium) (地球平和連合TPC Chikyū Heiwa Rengō TPC) is an organization that founded by Souichiro Sawai when he was the secretary general of the United Nations back in the 20th century (2005). The organization specializes in technology development and innovation, which continued to the terraformation of Mars during the Neo Frontier era (2017). Branches of TPC include GUTS and its successor, Super GUTS. Super GUTS was eventually succeeded by Neo Super GUTS.
History
Ultraman Tiga Era
At the dawn of the twentieth century, TPC was created by its first leader Sawai to ensure peace on Earth. Among its umbrella organizations was GUTS (Global Unlimited Task Squad), an elite paranormal investigative and rescue unit.
When giant monsters and invading aliens started to appear, TPC responded by converting GUTS into a military unit to combat this new threat to mankind. They also began investigating the ancient organization after Ultraman Tiga first appeared.
In the year 2010, two years after Tiga's final battle, Saeki revisited the R'lyeh Island and engineered Plan F: to use the Ultramen as weapons. However, the plan failed and he died along with his followers save Iruma when the Dark Giants were released thanks to him. Eventually, a restored Tiga managed to defeat all the Dark Giants.
Ultraman Dyna Era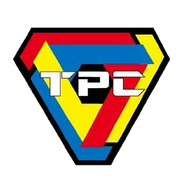 In year 2017, TPC had reached their greatest success following the terraformation of Mars. But another threat would came in when a new Ultra appeared and continue Tiga's legacy. As the giant first battled Darambia, the older TPC members sees him as Ultraman Tiga with an alternate appearance but others say that it's not Tiga, but a new Ultra with a resemblance to him. As time passes and Kihachi Gondo reengineers the late Saeki's Plan F by kidnapping Asuka and creating the manmade Ultra, Terranoid, but when the Spheres takes over his creation and he sees Asuka selflessly protecting everyone, he develops a change of heart and sacrifices himself to save Dyna/Asuka. With Gransphere vacuuming almost all of the Solar System planets including the artificial sun, TPC assist Super GUTS by equipping Kraakov NF-3000 with Neo Maxima Cannon to ease Asuka/Dyna's battle with Gransphire but the victory turns sober due to Asuka being sucked into the wormhole.
Ultraman Saga
After 15 years, TPC under General Hibiki has successfully operated the Mars Base. Hibiki briefly appeared in a hologram where he celebrates the 15th year anniversary of Asuka's sacrifice.
Members
Ultraman Tiga Era (2007-2010)
Dive Hangar
Moon Base Garowa Staff
Station Delta Staff
Space Station Delta (宇宙ステーションデルタ Uchū Sutēshon Deruta): A space station that orbited the Earth, armed with the Valkyrie Cannon (バルキリー砲 Barukirī-hō, Valkyrie Cannon).
Others
Ultraman Dyna Era
The former GUTS member later works in different branches of TPC.
Main
TPC Mars Program Members
ZERO Training Squad
Training School ZERO (養成機関ZERO Yōsei Kikan Zero) is a military training school for future cadets that will become members of TPC officers or Super GUTS members. The team made their appearance in Ultraman Dyna and chronologically first appeared in The Final Odyssey.
Ultraman Saga Era
TBA
Arsenal
Mecha
Ultraman Tiga Era
Executive Transport Aircraft TPC1 (幹部用輸送機 TPC1

Kanbu-yō Yusō-ki Tī Pī Shī Wan

): A business jet-like VTOL used by TPC board members and leaders.
Jupiter 3 (ジュピター3号

Jupitā Sangō

): An exploration shuttle that was used to explore Jupiter, unfortunately the shuttle and its crew were assimilated into a monster called Ligatron.
Orbiter (オービター

Ōbitā

): A connecting shuttle from Earth to Space Station Delta.
Medium tank (中型戦車

Chūgata Sensha

): TPC's personal combat tanks.
GUTS Wing Crimson Dragon: A custom built GUTS Wing 1 designed by the European branch of the TPC. Its combat efficiency exceeds GUTS Wing 1 and is still used during the Super GUTS age.
GUTS Wing Blue Tornado: A custom built GUTS Wing 1 designed by the American branch of the TPC. Although its speed availability exceeds GUTS Wing 1, its weapons are less effective.
Magnus 1 and Gravas 2: A pair of tanks that appeared in episode 36.
Romulus (ロムルス号

Romurusu-gō

): A spacecraft made for the use of TPC Space Development Center.
Flying Boat Garowa: VTOL spacecrafts deployed by the TPC Lunar Base Garowa.
Ryugu (りゅうぐう

Ryūgū

): A submarine used by the TPC to inspect the remains of ancient civilizations in New Zealand but was destroyed by a Zoiger.
Ultraman Dyna Era
TPC4WD: A standard jeep used by Ryo to search for Asuka in episode 2. It is also widely used by Military Police officers.
TPC Glider (TPCグライダー

Tī Pī Shī Guraidā

): A standard glider piloted by Kohda when GUTS mechas were incapable of approaching Bazob due to its electromagnetic field disrupting their technologies.
TPC Armored Tanks (TPC装甲戦車

Tī Pī Shī Sōkō Sensha

): A combat tank with enhanced armory, though its caliber being smaller than Medium Tanks.
Passion Red: Aircraft developed by South American branch of TPC.
Hundred Formula Plasma: A test drive aircraft boarded by Kazama Asuka in testing the Zero Drive flight navigation.
Snow White Breaks: A remodeled version of Maxima Overdrive test machine Snow White with silver plating in place of white.
Lovemos: An exploration robot under the codename "TM-39" which gained quite a huge popularity.
Space Power Station Helio (宇宙発電所へリオ

Uchū Hatsudenjo Herio

): A power station that functions by absorbing sunlights into special waves that charged its power to nearby stations.
Gazelle (ガゼル号

Gazeru-gō

): A spaceship which transported the Jupiter-born children in episode 41.
NSP Campanella: A satellite which functions by capturing sunlight and radiate the neighbouring planets than Earth.
Mountain Gulliver 5: A giant robot in Mars which was used to carry the Specium Gun.
Community content is available under
CC-BY-SA
unless otherwise noted.