Surprise! A Monster Has Fallen (びっくり!怪獣が降ってきました Bikkuri! Kaijū ga futte kimashita) is the twentieth episode of Ultraman Taro.
Plot
Kotaro, Kenichi, and Saori are spending their summer in Shinshu. While enjoying fireworks at night, a young monster, Raidron, flies by space overheard with its mother. Lured by the display, the younger monster flies down into the flames, where it is badly burned. Searching for its child, the monster's mother cries out like thunder and illuminates the area with lightning, as well as calling down rain to keep its child hydrated. Kotaro informs ZAT of these strange events and begins to search for their source.
Cast
Kotaro Higashi (東光太郎, Azuma Kōtarō): Saburo Shinoda (篠田三郎

Shinoda Saburo

): Ultraman Taro (ウルトラマンタロウ Urutoraman Tarō Voice )

Shuhei Aragagi

( 荒垣修平 Aragagi Shūhei):

Takahiko Higashino

(東野孝彦 Higashino Takahiko)

Jiro Nishida

(西田次郎 Nishida Jiro):

Kiyotaka Mitsugi

(三ツ木清隆

Mitsugi Kiyotaka

)

Tadao Nanbara

(南原忠男

Nanbara Tadao

):

Toyoyuki Kimura

(木村豊幸

Kimura Toyoyuki

)
Tetsuya Kitajima (北島哲也

Kitajima Tetsuya

):

Shusuke Tsumura

(津村秀祐

Tsumura Shūsuke

)
Izumi Moriyama (森山いずみ

Moriyama Izumi

):

Kiyoko Matsuya

(松谷紀代子

Matsuya Kiyoko

)
Saori Shiratori (白鳥さおり

Shiratori Saori

):

Mayumi Asaka

(あさかまゆみ

Asaka Mayumi

)

Ken'ichi Shiratori

(白鳥健一

Shiratori Ken'ichi

):

Shin'ya Saito

(斎藤信也

Saitō Shin'ya

)

Yūtarō Asahina

(朝日奈勇太郎

Asahina Yūtarō

):

Akira Nagoya

(名古屋章

Nagoya Akira

)
Mother of Ultra (ウルトラの母

Urutora no Haha Voice

):

Shigeko Mori

(小鷹狩

Mori Shigeko

)
Narrator (ナレーター

Narētā

):

Tetsurō Sagawa

(瑳川哲朗

Sagawa Tetsurō

)TBA
Appearances
Ultras
Kaiju
Home Media
Ultraman Taro Volume 5 features episodes 18-21.
Trivia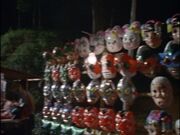 Masks of Kamen Rider V3 and Thunder Mask can be seen at the fireworks festival.