Sulfas (サルファス Sarufasu) is a Kaiju that appeared in the Heisei Ultraseven series.
Subtitle: Sulfur Monster (硫黄怪獣 Io Kaiju)
History
Heisei Ultraseven
An underground monster, Sulfas was captured and altered by sulfur breeding bacteria created by Alien Guts, this bacteria turned the monster rabid and required it be controlled by direct brainwave manipulation. This was done to use its gas to turn human into sulfur humans as part of Guts' plan to take over Earth. Hidden beneath a complex, it arose when the TDF and the Ultra Guard attacked the base. It was met by Ultraseven, under the control of its master it was able to counter the Ultra Warrior, withstanding even the Wide Shot. Sulfas covered the sky with Sulfur clouds cutting of Seven from his power source. Only the maneuvers of the Ultra Hawk 1, punching a hole in the clouds allowed Seven to destroy Sulfas with a Neo Wide Shot.
Trivia
Suit Actor: Hiroyuki Okano
Sulfas uses a slightly modified, lower pitched Rodan roar.
Data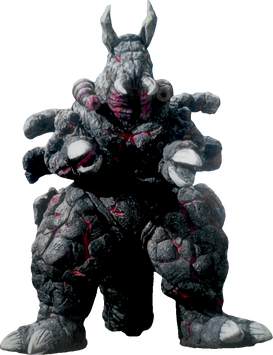 Stats
Height: 50 m
Weight: 47,000 t
Origin: Underneath Fudogatake
Powers and Weapons
Burrowing: Sulfas can burrow at high speeds.
Durability: Sulfas could withstand a normal Wide Shot from Seven.
Sulfur Vapour: Sulfas can expel high temperature sulfur gas that is lined with bacteria made by Alien Guts. These gases can infect humans and covering the sky with darkness to cut Ultraseven's connection with the Sun.
Gallery