Streets of Illusion  (まぼろしの街 Ma Boroshi no Machi) is the 5th episode of Ultraman 80.
Synopsis
Aliens known as the Bam abduct Yamato so he can't interfere with their invasion plan. It's up to Yamato to stop the plan and the evil robot Mechagiras in the process.
Plot
After missing a train, Takeshi Yamato realizes that the constellations are wrong. Before he can ponder on this any further, another train pulls up. He gets on the train and falls asleep, when he wakes up, he finds out that the train didn't take him home. Instead, it took him to the fourth dimension. He later finds out that it was a race of aliens known as the Bam had brought him to the fourth dimension to kill him, so he couldn't interfere with their plans to conquer the third dimension by transforming into Ultraman 80. However Yamato escapes and learns that the Bam plan on releasing a robot called Mechagiras to wreak havoc on our world so it's up to Yamato to stop them.
Cast
TBA
Appearances
Ultras
Kaiju
Home Media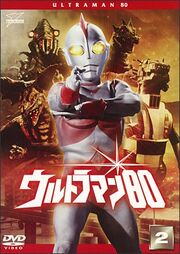 Ultraman 80 Volume 2 Features Episodes 5-8.
Trivia
This episode was later featured in Ultraman Retsuden episode 73 "Ultraman 80 Appears! The City of Illusions!!".
The episode was premiered in the United States on TOKU on March 29, 2017.
Community content is available under
CC-BY-SA
unless otherwise noted.