Soso (躁躁 Sōsō) was a teen genius of an unnamed foreign country in Ultraman F. Alongside his little sister Utsuutsu, he was born with a frail body and shorter life expectancy, and eventually transformed into Dark Mephisto after making a deal with Dark Zagi.
Conception
Etymology
Soso's name contains the repititive Kanji for "躁", which translated into manic, befitting his deranged personality, as well as his habit of looking down on humans as inferiors other than his little sister.
History
Ultraman F
Alongside Utsuutsu and Inpei Seant, Soso was ordered by an unnamed marshal to create clone monsters for military strength after Ultraman's departure. The siblings created clones of Kemur, Gomora and Bullton. According to Soso, although it was possible to clone Zetton, he choose not to do it out of fear that the monster could not be controlled. The pair would eventually defect from the military after Bullton caused the dimensional tear that brought multiple monsters and aliens to Earth. He also administered his marshal with a cell that turned him into Jamila.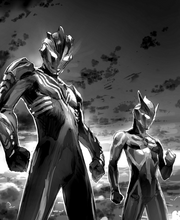 When Dark Zagi appeared, Soso and Utsuutsu wished to become kings of the new world and in turn transformed into Giants of Darkness. Soso became Dark Mephisto and Utsuutsu becomes Dark Faust as they proceeded to lay waste to Osaka, especially the Shinsekai district. When Akiko Fuji challenged them as Giant Soldier F, Mephisto summoned Jamila as their aid but said monster was killed by Ide via Mars 133. The two engaged in the battle against Fuji but neither of them were proficient fighters (due to their aforementioned frail physicality). Zagi joined them and managed to weaken F but once all three of them open fire on Fuji, her Mefilas Bots were radiated and in turn transformed her into Ultraman F. The female Ultra countered their attacks by killing Faust with the Specium Ray and wounded Mephisto with the M87 Ray. After Zagi's death, Soso tried to commit suicide by detonating the Earth with him but Utsuutsu's spirit prevented him from doing so. Soso eventually joined his sister to the afterlife dissolving in a mass of darkness
Powers and Weapons
Genius-level Intellect: Soso is evidently one of the young prodigies who is capable of mastering the science of cloning.
Trivia
Although their age is unspecified, Soso and Utsuutsu's status as young Ultra Hosts may parallel with Yuuto Tamaki or around those of Hikaru Raido. In fact, they are also the first to be aligned with darkness.
It is hinted that instead of a simple transformation, Soso and Utsuutsu traded their humanity to transform into Dark Giants, thus making it that the giants themselves are their current forms.

How they obtained their Dark Giant forms from Zagi is based on the old German story that inspired the names of their giant forms; where a man named Faust exchange his soul with the devil in exchange for unlimited knowledge. Like the titular Faust, the siblings are also researchers.