Ship on the Sea of Darkness (暗黒の海のモンスターシップ Ankoku no umi no monsutā shippu) is the thirty-second episode of Ultraman 80.
Synopsis
Ships begin to vanish in the Pacific ocean causing UMG to theorise a monster at work. Takeshi meets young a boy who is somehow involved. Can the mystery be solved before the next ship is gone forever?
Plot
Ships begin to vanish in the Pacific ocean. UGM theorizes a monster is behind it. On his way home, Takeshi meets up with a boy named Akira who always plays with his toy boats in that spot. He learns the child's father is on a boat, and that he fears for his father after hearing news of the disappearances. Takeshi promises to protect him. After consuming another vessel, the Barrack Ship rises from the water.
TBA
Cast
TBA
Appearances
Ultras
Kaiju
Home Media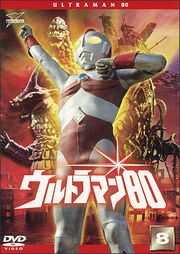 Ultraman 80 Volume 8 Features Episodes 29-32.
Trivia