Shadow Warriors in the Time Tunnel (タイムトンネルの影武者たち Taimuton'neru no kagemusha-tachi) is the twenty-sixth episode of Ultraman 80.
Synopsis
Takeshi and Emi accidentally travel to Ann alternate dimension. Who is the princess that, somehow, looks exactly like Emi?
Plot
TBA
Cast
TBA
Appearances
Ultras
Kaiju
Home Media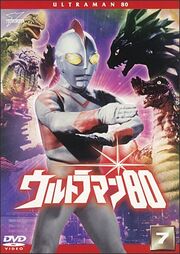 Ultraman 80 Volume 7 features 25-28.