Scheme (策・略 Saku・ryaku) is the seventh episode of SSSS.GRIDMAN.
Synopsis
Knowing the truth of the world, Yuta talked to Utsumi and Rikka but neither of them became enemies. Yuta tried talking to Akane but he was confused. Somehow while talking with Akane, Yuta's questions turn into confidence. Akane makes a surprise proposal to Yuta. Meanwhile, a huge UFO was out on the streets.
Voice Drama 7.7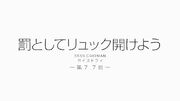 Let's Open Her Backpack As Punishment (罰としてリュック開けよう Batsu to Shite Ryukku Akeyou)
Since Rikka didn't come back from her "toilet break", Namiko and Hass decide to open up her backpack and they find something strange in it.

Cast
Yuta Hibiki (響裕太

Hibiki Yūta

): Yuya Hirose (広瀬 裕也

Hirose Yūya

) (Japanese dub)/Brandon McInnis (Funimation Dub)
Gridman (グリッドマン

Guriddoman

): Hikaru Midorikawa (緑川 光

Midorikawa Hikaru

) (Japanese dub)/Robert McCollum (Funimation Dub)
Sho Utsumi (内海 将

Utsumi Shō

): Soma Saito (斉藤 壮馬

Saitō Sōma

) (Japanese dub)/Greg Ayres (Funimation Dub)
Rikka Takarada (宝多六花

Takarada Rikka

): Yume Miyamoto (宮本 侑芽

Miyamoto Yume

) (Japanese dub)/Jill Harris (Funimation Dub)
Akane Shinjo (新条 アカネ

Shinjō Akane

): Reina Ueda (上田 麗奈

Ueda Reina

) (Japanese dub)/Lindsay Seidel (Funimation Dub)
Alexis・Kerib (アレクシス・ケリヴ

Arekushisu Kerivu

): Tetsu Inada (稲田徹

Inada Tetsu

) (Japanese dub)/Barry Yandell (Funimation Dub)
Namiko (なみこ

Namiko

): Suzuko Mimori (三森 すずこ

Mimori Suzuko

) (Japanese dub)/Sarah Wiedenheft (Funimation Dub)
Hass (はっす

Hassu

): Akari Kito (鬼頭明里

Kitō Akari

) (Japanese dub)/Amber Lee Connors (Funimation Dub)
Samurai・Calibur (サムライ・キャリバー

Samurai Kyaribā

): Ryosuke Takahashi (高橋良輔

Takahashi Ryōsuke

) (Japanese dub)/Ian Sinclair (Funimation Dub)
Max (マックス

Makkusu

): Katsuyuki Konishi (小西克幸

Konishi Katsuyuki

) (Japanese dub)/Cris George (Funimation Dub)
Vit (ヴィット

Vitto

): Masaya Matsukaze (松風雅也

Matsukaze Masaya

) (Japanese dub)/Chris Burnett (Funimation Dub)
Anti (アンチ

Anchi

): Kenichi Suzumura (鈴村健一

Suzumura Ken'ichi

) (Japanese dub)/Stephen Fu (Funimation Dub)
Anosillus the 2nd (アノシラス(2代目)

Anoshirasu (2-daime)

): Karin Takahashi (高橋花林

Takahashi Karin

) (Japanese dub)/Monica Rial (Funimation Dub)
Appearances
Hyper Agents
Assist Weapons
Kaiju
Easter Eggs
Denkou Choujin Gridman
The city in the sky may actually be parts of the Computer World, as it is modeled after the sets on which Gridman fought kaiju in.
Denkou Choujin Gridman: boys invent great hero
Ultraman Series
Other
Rikka was listening to Inferno Cop's second ending song in her room.
Rikka has a green Wooser plush/pillow in her room.
Community content is available under
CC-BY-SA
unless otherwise noted.