Scheme (策・略 Saku・ryaku) is the seventh episode of SSSS.GRIDMAN.
Synopsis
Knowing the truth of the world, Yuta talked to Utsumi and Rikka but neither of them became enemies. Yuta tried talking to Akane but he was confused. Somehow while talking with Akane, Yuta's questions turn into confidence. Akane makes a surprise proposal to Yuta. Meanwhile, a huge UFO was out on the streets.
Voice Drama 7.7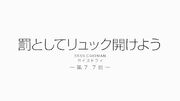 Let's Open Her Backpack As Punishment (罰としてリュック開けよう Batsu to Shite Ryukku Akeyou)
Since Rikka didn't come back from her "toilet break", Namiko and Hass decide to open up her backpack and they find something strange in it.

Cast
Appearances
Heroes
Assist Weapons
Kaiju
Easter Eggs
Denkou Choujin Gridman
The city in the sky may actually be parts of the Computer World, as it is modeled after the sets on which Gridman fought kaiju in.
Denkou Choujin Gridman: boys invent great hero
Ultraman Series
Other
Rikka was listening to Inferno Cop's second ending song in her room.
Rikka has a green Wooser plush/pillow in her room.