Anti-Monster Robot Unit STORAGE
(対怪獣ロボット部隊 ストレイジ
Tai Kaijū Robotto Butai Sutoreiji
) is a unit that deals with the use of robot mechas in order to combat daily monster attacks and participation in rescue missions. The team's name, "STORAGE" is an acronym for
S
pecial
T
actical
O
perations
R
egimental
A
irborne and
G
round
E
quipment (対怪獣特殊空挺機甲隊
Tai Kaijū Tokushu Kūtei Kikō-tai
).
[1]
[2]
[3]
The reason for STORAGE's development in Japan is due to a slogan, "If you're speaking about Japan, then it's robots" (日本と言えばロボットだろ Nihon to ieba robotto daro). They are the only branch of GAF in the world that uses giant robots, with other branches only using enhanced vehicles.[4]
History
Ultraman Z
TBA
Base
STORAGE Headquarters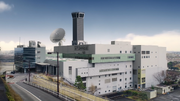 The STORAGE Headquarters (ストレイジ本部 Sutoreiji Honbu) is a six-story warehouse-like building. It has an underground garage that houses the mecha that they use. The mecha are able to be deployed via an elevator shaft and through the fourth gate on the roof.

Members
Attack Team
Mechanics Team
Main article: Kojiro Inaba
Kojiro Inaba (稲葉 虎二郎 Inaba Kojirō)[5] is the 59-year-old leader of the mechanics in overseeing the maintenance of Sevenger and the other Special Airborne Armor robots. His nickname is Mr. Bako (バコさん Bako-san) and the members of the maintenance crew trust him deeply. He's a quiet man who gives off an old-fashioned Showa atmosphere and sometimes displays an unexpected skill, but his past in shrouded in mystery.[11][10]
Kojiro Inaba is portrayed by Jun Hashizume (橋爪 淳 Hashizume Jun).[11][10]
Satoshi (サトシ, Satoshi) is one of Inaba's maintenance crew members. His family name is Watahiki (seen on his name tag), but is yet to be revealed for its Japanese rendition of the name. He is also one of Yoko's admirers, but loses to her in an arm-wrestling match.
Satoshi is portrayed by Reo Satou (佐藤 玲央 Satō Reo).

Seiji Siose (シオセ セイジ Shiose Seiji) is one of Inaba's maintenance crew members.
Seiji is portrayed by Fuuma Kakuda (角田 楓馬 Kakuda Fūma).[12]

Gear
Arsenal
Equipment
Rifle: A customized rifle that shoots energy-like projectiles.
Thermographic Camera: Handheld devices that are used to find heat sources.
Mechas and vehicles
STEGG (ステッグ

Suteggu

): A patrol car.
Anti-Monster Specialized Airborne Mechanical Armor (対怪獣特殊空挺機甲

Tai Kaijū Tokushu Kūtei Kikō

): Often shortened to just Special Airborne Armor (特空機

Tokkūki

lit. Special Aircraft) (SAA)[15], are giant robots utilized by STORAGE to assist them in against monster attacks and disaster relief missions. Yuka was their creator, whereas Inaba lead his mechanics to perform maintenance after their return from missions. Only two robots were produced due to budget restraints, though additional units are being considered.[16] According to Kuriyama, some of the reason of the delayed developments are due to said funding being used to pay collateral damages from the conflict between STORAGE and the daily monster attacks. The machines were built using a decade-worth of studying Grigio Raiden's cybernetic parts in Yamanashi Prefecture.
Gallery
Miscellaneous
Trivia
STORAGE, and by extension its parent organization Global Allied Forces Japan is the first attack team since Xio from Ultraman X to actively take part in the fight against monsters while having an Ultra Host being part of their ranks.
STORAGE HQ in real life, is actually a water treatment facility named "Tamagawa Sanitation Association" located in Omaru, Inagi, Japan.[18] Several aspects of the building were changed during post-production; for example, a large chimney on the facility roughly corresponds to the location of the HQ's control tower.
The STORAGE helmets are repaints of motorcycle helmets manufactured by OSBE Helmets Italy.[19]
In the Ultraman Series' Twitter site, weekly reports of STORAGE's exploits were uploaded and claimed to be written by Sosuke Yoshida (ヨシダ ソウスケ

Yoshida Sōsuke

), an unseen member of the team's public relations officer. His position is similar to Sera of UGM from Ultraman 80.[20]
References
Community content is available under
CC-BY-SA
unless otherwise noted.