Rukulion (ルクーリオン Rukūrion), also known as Ruku (ルクー Rukū), is a monster that appeared in the series Ultraman Gaia in episode 29. 
Subtitle: Guardian Beast (守護獣 Shugo-jū)
History
Ultraman Gaia
On a normal day in the park, an old man was feeding pigeons when he saw a floating city in the sky, which quickly vanished. His curiosity grew about the city, leading XIG to investigate, where they found the man unconscious. They woke him up, and he told them about a monster named Rukulion and a city called Uqbar. They didn't believe him, but then a strong wind blew and soon appeared the monster Rukulion. The man went after it, leading Gamu Takayama to transform into Ultraman Gaia and fight the monster. Due to its mass, Gaia could not stop the monster's progression. Gaia then almost fired the Quantum Stream but stopped himself when Uqbar appeared and transported the creature and the old man away. The man soon told Gaia about the city and how he had this calendar from 1966 with an identical city, and then the city vanished once more. The Distant City: Uqbar
Trivia
Rukulion's stomps are drums beats.
Rekulion's suit would used to make Σ-Zuigul's suit.
Data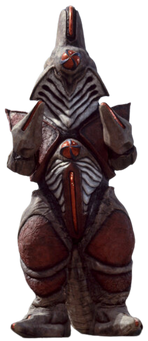 Stats
Height: 52 m
Weight: 48,000 t
Origin: Uqbar
Powers and Weapons
Wind: Rukulion can make a strong wind blow.
Uqbar (ウクバール

Ukubāru

): Rekulion travels around with a floating city called Uqbar.
Merchandise
Rukku was released by the Ultra Monster Series in the year 1999. the figure stands at 6 inch tall. He is very accurate to the suit, the only flaw is that Rukulion's white area on his chest does not have black lines in it. The Rukku figure is still well worth it.
Gallery