Rigger (リッガー Riggā), also known as Riggah, was a kaiju that appeared in episode 32 of Ultraseven.
Subtitle: Mechanism Monster (メカニズム怪獣 Mekanizumu Kaijū)
Stats
Length: 60 m
Weight: 65,000 t
Origin: Asteroid Din
History
Ultraseven
Rigger was a kaiju that had thrived on an asteroid-like saucer that was headed for earth that possessed and emitted Electromagnetic Waves. When the Ultra Garrison left to deal with the asteroid, it pulled their ships onto its surface and downed them as it landed. Shortly after scoping out the area and discovering the saucer's origins, Rigger appeared and attacked them. As the Ultra Garrison tried to hold the monster off with their weapons, Dan tried to transform into Ultraseven. However due to the saucer's electromagnetic field, the Ultra Eye would not activate.
Instead, Dan tried to hold off the monster with his newly introduced capsule monster, Agira. Agira was left to battle Rigger on his own while Dan Moroboshi went to dismantle the source of the electromagnetic waves. Agira and Rigger seemed evenly matched but once Rigger downed Agira at an opening, Agira was left to feel the battering of Rigger's tail which forced Dan to recall Agira before any worse harm could be done. Once the electromagnetic fields were disabled, Dan transformed into Ultraseven and battled the monster himself. Ultraseven and Rigger also seemed evenly matched by ultimately it was the ultra who won by decapitating Rigger with his Eye Slugger. Shortly after killing the monster, Ultraseven lured his ship into the Earth's Atmosphere with Rigger's decapitated head, where it exploded thanks to a bomb that was implanted insides its core thanks to the Ultra Garrison.
Trivia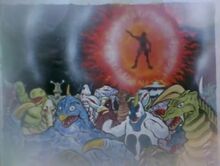 Powers and Weapons
Saucer: Rigger can travel via a saucer.
Gallery