Purana (プラーナ Purāna) was an unidentified parasitic Kaiju that appeared in episode 9 of Neo Ultra Q.
Subtitle: Suction Monster (吸引怪獣 Kyūin Kaijū)
History
Neo Ultra Q
Puranas are a species of strange creatures that live in the atmosphere, where they consume chemicals such as carbon dioxide. Due to the increase in global warming, the Purana had a larger supply of food, naturally causing them to swell in size as they consumed many toxic chemicals from factory smokestacks. Upon their discovery, the people of Japan tolerated the Purana believing they were helping to dampen a massive heatwave, but within weeks the balloon-like parasites appeared all over cities, feasting on the abundant chemicals in the air.
Eventually the Puranas began to look crusty and hard which concerned the citizens and government alike. One day the Puranas exploded violently, leaving in their wake clean air and gigantic plants which were celebrated across Japan. The Tokyo Protocol
Trivia
One of the Purana props was modified into the prop of Greeza's first form.
Ultraman Taiga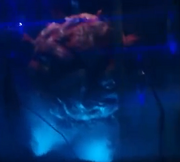 A Purana was seen as one of the test subjects of Mabuze's experiments to create the ultimate creature. Its actual fate prior to Skull Gomora's rampage was unknown, but it was most likely that the creature fled from the scene after Hiroyuki freed most of the captives. I Can't Hear Your Voice
Trivia
Purana has seemingly been "de-modified" from its use as Greeza's first form.
Data

Stats
Height: 4.5 ~ 20 m
Weight: Unknown
Origin: Sky
Powers and Weapons
Chemical Consumption: Puranas can consume toxic chemicals up to a month without any negative side effects. Once they grow large enough they will explode, upon which they release electricity and spawn giant plants.
Gallery