This may not be the article you are looking for. For the Imit-Ultraman Agul, see Alguros.
Phantom-Ultraman Agul (幻影ウルトラマンアグル Gen'ei Urutoraman Aguru) is a copy of Ultraman Agul that appeared in Ultraman Gaia.
History
Ultraman Gaia
Once Ultraman Gaia entered Queen Mezard's dimension, she used her illusion powers to create "Agul". The Phantom-Agul came to being through a giant wall of flames and quickly attacked Ultraman Gaia. Gaia, on the other hand, could not bear attacking an enemy that looked exactly like his friend and was quickly beaten down. However, just as Phantom Agul was about to choke Gaia to death, a special missile fired by the XIG's Team Lightning destroyed Phantom Agul and Queen Mezard's Super Dimension.
Trivia
Suit actor: Kazuya Shimizu
This Agul is the same as Lilia from the same season, in that they are manifestations created by the Mezards to deceive others through their emotional dilemma. In Phantom-Agul's case, he is stated to be a representation of the deceased Earth monsters, as well as to inflict hesitation to Gaia.

In addition, when Queen Mezard took the form of the late Kyoko Inamori, she implores Fujimiya to serve the Radical Destruction Bringer and in return restoring his powers as Ultraman Agul. It is likely that Phantom-Ultraman Agul is who Fujimiya intended to bond with had he accepted the offer.
Data
Phantom-Ultraman Agul (V1)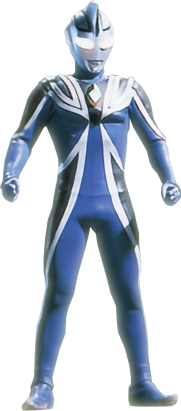 Stats
Height: 50 m
Weight: 46,000 t
Origin: Queen Mezard's Hyperspace (Point 210A7, above KCB's TV station)
Powers and Weapons
Phantom-Agul Kick (幻影アグルキック

Gen'ei Aguru Kikku

):
Phantom-Backspin Kick (幻影バックスピンキック

Gen'ei Bakkusupin Kikku

):
Phantom-Ultraman Agul (V2)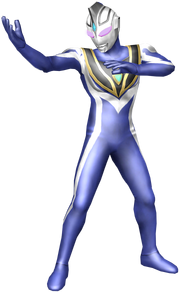 Stats
Height: 50 m
Weight: 46,000 t
Origin: Summoned by Bullton
Powers and Weapons
Agul Saber (アグルセイバー

Aguru Seibā

): An energy sword. Instead of light blue, his is colored purple.

Agul Counter-Saber: Phantom-Agul can use Agul Saber to generate energy within it and blast it to the opponent. Only seen in the game Ultraman Fighting Evolution Rebirth.

Ultra Barrier (ウルトラバリヤー

Urutora Bariyā

): When needed, Ultraman Agul can create an energy shield that can block powerful attacks.
Photon Screw (フォトンスクリュー

Foton Sukuryū

): A charged energy sphere attack launched against the opponent.
Other Media
Ultraman Fighting Evolution Rebirth
In the game's story mode, Bullton created its own version of Agul V2 as an opponent against Gaia. He sported purplish eyes, but was initially mistaken as the real one by Gaia and the helicopter crew until the real Agul appeared.
Trivia
Should the Phantom-Agul being exposed to Ultraman Cosmos' Full Moon Rect, he will disappear from the fight.
Gallery