Petero (ペテロ, Petero) was a monster that appeared in the TV series Ultraseven. He appeared in episode 35. A strange rock-like monster composed of 80% water, Petero was the servant of the Zamppa aliens and put up a hard fight against Seven until, by chance, a crashing meteorite gave Seven the light energy he needed to overpower and defeat his adversary.
Subtitle: Moon Monster (月怪獣 Tsuki Kaijū)
Conception
Etymology
Petero's name was inspired by Saint Peter, one of the Twelve Apostles of Jesus Christ, leaders of the early Christian Church.
History
Ultraseven
After Alien Zamppa failed to kill TDF member Kurata and Kiriyama, he sent Petero to do the job after his death. The monster tried to destroy their ships but forunately Dan transformed into Ultraseven and fight him. Petero was able to overpower Ultraseven thanks to the low temperature of the moon and the Ultra was cut from the sun until a meteorite crashed, emitting an explosion which Ultraseven used it to charge himself and finally kill the monster with the Wide Shot. Horror on the Moon
Trivia
Data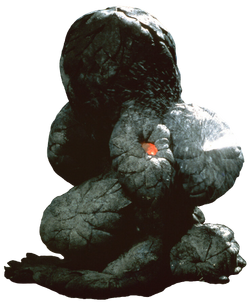 Stats
Height: 63 m
Weight: 75,000 t
Origin: Moon desert
Powers and Weapons
Adaption: Petero can survive in airless environments like the moon as well as very low temperatures. Through these adaptations, Petero is able to generate the water and oxygen required for his techniques to work.
Eye Blasts: Petero can emit red energy blasts from his eye that are presumably filled with oxygen, allowing them to cause explosions in airless environments such as the moon.
High-Pressure Water Hose: From the hole next to his eye, Petero can fire a powerful jet of high-pressure water, capable of forcing opponents back. Given that his body is 80% water, he can use this ability for long periods without it harming him in any way.
Gallery