Pair-Mons King (ペアモンスキング Peamonsu Kingu) is a Kaiju that appeared in episode 33 of Mirrorman.
Subtitle: Huge Double-Headed Monster (巨大な双頭怪獣 Kyodaina Sōtō Kaijū)
History
Mirrorman
Pair-Mons King
One day a pair of Invaders followed Kyotaro until they took him and a boy hostage. Before long a flying saucer beamed down on the two, allowing Pair-Mons King to form. Kyotaro turned into Mirrorman, but a badge placed on him trapped the hero in the second dimension. While the Invaders taunted the trapped Mirrorman, Pair-Mons King attacked the lodging and oil industrial complex bay of Yokkaichi. SGM arrived soon after noticed Pair-Mons King's rampage caused a massive oil spill into the bay. Dr. Mitarai instructed them to lead the monster away from the industrial complex before the Invaders showed up to his room. Pair-Mons King set the complex on fire within minutes via mouth flames. Jet fighters from the Self Defense Force assault the monster only for Pair-Mons King to easily destroy them with more flames.
Mirrorman was soon free from the entrapping badge thanks to Fujimoto firing the Sol-gun at it. The hero quickly attacked the Invaders' city fortress they were building in the ocean that just surfaces. Pair-Mons King was sent to the city fortress to defend it from him. The raging monster was unable to handle the combination of Mirrorman and the SGM's missile barrage. Pair-Mons King kept using his flames on Mirrorman who used a large Defense Mirror to act as a shield to protect him. Pair-Mons King was eventually killed by Mirrorman using the Mirror Kick to sever him in two and destroyed the city fortress with the Slicer H and Mirror Knife.
Trivia
His design was based on a giraffe.
Pair-Mons King's roar is a slowed down Zumbolar roar.
Pair-Mons King β
Pair-Mons King β was the brother of the original. He first emerged near a mountain side where he nearly killed a boy named Yoshio the Invaders took as a hostage. Mirrorman proceeded to fight Pair-Mons King β and soon after Gorgosaurus β. Shortly into the fight Mirrorman used the Miracle Kick to decapitate both monsters.
Trivia
Unlike the first generation, Pair-Mons King β does not have horns on both of his heads.
Pair-Mons King β's roar is a reused Telesdon roar.
Data
Pair-Mons King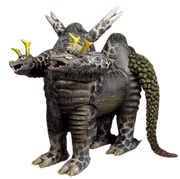 Stats
Height: 89 m
Weight: 65,000 t
Origin: Planet X
Powers and Weapons
Arm Whips: Pair-Mons King has a whip for each arm.
Flames: Pair-Mons King can breathe a deadly stream of flames from both his mouths.
Heat Ray: Though not shown yet, Pair-Mons King can fire heat rays from both his mouths.
Electric Bolts: Pair-Mons King can shoot electric bolts with 80,000 volts of power from the horns on each head.
Gallery