Only One Life (ひとつきりの命 Hitotsu kiri no Inochi) is the third episode of Ultraman Mebius.
Synopsis
Birdon has arrived. Can Mebius defeat this foe, one that previously killed an Ultraman?
Plot
On another night the woman in white (Bogar) appeared at an erupting volcano, GUYS discover an area on the side of the mountain to be withered and covered in sulfur, then the monster Birdon appears and attacks the area. Ultraman Mebius appears to stop him but, during the fight is stabbed by the monster's beak and injected with poison, leaving Mebius badly injured and Birdon to fly away towards the Pacific Ocean. The next day Teppei researches the fact of what the purpose of the Color Timer was and if an Ultraman can die. Later that day tracking shows that Birdon changed course and was heading back for the mainland. The Gun Phoenix was sent to intercept it but, even with METEOR proved futile and reached a coastal town. Mirai though weak and injured transformed into Ultraman Mebius though his Color Timer was still red. Teppei soon discovered to the rest of the team's horror that it represents that he is alive but, is not invincible. Mebius goes to fight Birdon and with the combined efforts of him and GUYS, they defeated the monster with the Mebium Shoot and the newest weapon the Capture Cube.
Cast
Appearances
Ultras
Kaiju
Home Media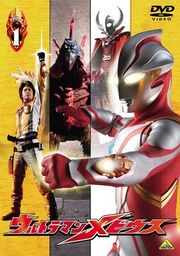 Ultraman Mebius Volume 1 features episodes 1-4.
Community content is available under
CC-BY-SA
unless otherwise noted.