Mother's Miracle (母の奇跡 Haha no Kiseki) is the eleventh episode of Ultraman Mebius.
Synopsis
Mother of Ultra begins her miracle on Hikari, while a herd of Dinozaur head towards earth.
Plot
Mother of Ultra brings Tsurugi into her dimension and begins to work a miracle. Some days later, a herd of Dinozaur head towards earth. Teppei explains that they were not being lured in but are migrating. Just then, Lim Eleking shows up, and the adjutant explains it is now GUYS' mascot. GUYS Spacey stops all but one of the Dinozaur from reaching earth with space mines. GUYS attacks, and, using METEOR, defeats it.
Unfortunately, the monster revives, reversed. To counter it, GUYS brings out Marquette Monster Windom. Dinozaur arrives at the planned point, and Mirai attacks with the new Marquette, but their mission fails. Mirai transforms, but is no match for the monster. Then a blue ultraman, Hikari, arrives. Together, the two ultras defeat the monster.
Later, Serizawa confirms to Mirai that Mother of Ultra saved him and removed the armor of Arb. He then leaves, telling him Ryuu is in Mirai's hands.
Cast
Home Media
Ultraman Mebius Volume 3 features episodes 9-12.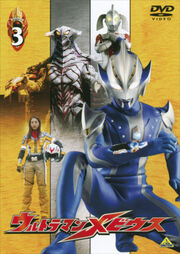 Trivia
This episode was later featured in Ultraman Retsuden episode 52: Miracle of Mother! Ultraman Hikari!!