Monster Encircling Net (野獣包囲網 Yajū Hōimō) is the twelveth episode of Ultraman Gaia.
Plot
A strange beast that appears to be a werewolf is the target as Team Lizard takes to the field.
Cast
TBA
Appearances
Ultras
Kaiju
Mecha
1 x Peace Carry
XIG Fighters

1 x Fighter Exciter
1 x Fighter Sky Surfer

2 x Bermanns

1 x GUARD Variant
1 x unknown variant
Home Media
Ultraman Gaia Volume 3 features episodes 9-12.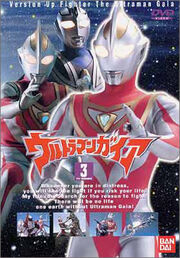 Trivia
This was the first fight between Gaia and Agul.