Mogrudon (モグルドン Mogurudon) is a mole-like Kaiju that appeared in the TV series, Ultraman Cosmos. He appeared in episodes 6, 32, 55, and 65.
Subtitle: Underground Monster (地中怪獣 Chichū Kaijū)
History
Ultraman Cosmos
Mogrudon was a giant mole monster who was disturbed of his sleep by electromagnetic waves caused by underground construction. In hopes of silencing the noise, Mogrudon tried to stop the construction with his long tail on the surface. EYES was quick on the scene to try and drive off Mogrudon's presence but his tail retracted back into the ground before any threat could be made towards the monster. EYES then tried "fishing" the monsters out from hiding by using a giant hooked cord, like a fishing rod and successfully managed to pull Mogrudon's entire body to the surface. Unfortunately, Mogrudon hit a power plant while being dragged to the surface and EYES was out of commission, leaving Musashi to transform into Ultraman Cosmos to deal with the monster. Despite Mogrudon using his illusionary chest and tail, Cosmos fought back and incapacitated Mogrudon by tying him up with his own tail before putting the monster to sleep with the Full Moon Rect.
Mogrudon was then sent to Kaburaya Island where he would live with other monsters that's rampages were stopped by Cosmos. During his time on the island, Mogrudon made good friends with the monster Bolgils. During Chaos Darkness's final attack on Earth, Mogrudon (as well as Lidorias and Bolgils) assisted Ultraman Cosmos in weakening Chaos Darkness long enough for Ultraman Cosmos to purify the evil entity once and for all.
Trivia
Ultraman Saga
Mogrudon reappeared in the film, Ultraman Saga, in which several Mogrudons were seen as residents of Planet Juran.
Data
Stats
Height: 55 m
Weight: 64,000 t
Tail Length: 92 m
Powers and Weapons
Burrowing: Being a mole monster, Mogrudon can burrow at high speeds.
Tail: Mogrudon's tail is nearly 5x his body length, he can use it to ensnare, batter, or lure opponents on the surface while he himself is underground.
Mesmerizing Chest: If stared at long enough, Mogrudon's chest design can temporarily confuse his opponents by conjuring illusions.
Merchandise
Ultra Hero & Monster Series
True Hero Set (2002)

Release Date: September 2002
Price: 2,750 yen
JAN/ISBN: 4543112081513
Materials: PVC
The first Ultra Hero & Monster Series iteration of Mogrudon is released as a 3-pack along with Chaos Darkness and a Cosmos Miracluna figure. Mogrudon's articulation consists of his four limbs and his tail.
Mogrudon is packaged facing upwards, revealing his "Mesmerizing Chest" paint details.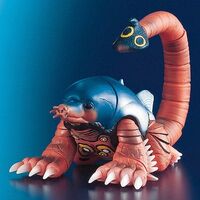 Mogrudon (2003)

Release Date: June 2003
Price: 700 yen
JAN/ISBN: 4543112159854
Materials: PVC
The Mogrudon figure from the set is also available individually in 2003.
Gallery
Ultraman Cosmos
Ultraman Saga