Mitsuhiro Ide (井手 光弘 Ide Mitsuhiro) is a scientist, and the primary ordnance-and-munitions inventor of the Science Patrol. Sometimes he feels his weapons are useless because of Ultraman; however, sometimes his weapons have saved the day. He is rather comical by comparison with the team's other personnel, and is very skinny and tall.
Personality
Ide is very clever and has been shown to put his passion into creating the SSSP personal's weapons. He is the most carefree of the SSSP's main personal but is also a little cowardly when confronted with aliens. He is the source of most of the show's comic relief.
History
Ultraman
TBA
Ultraman Kaiju Densetsu: 40 Years of Truth
TBA

Other Media
Ultraman THE FIRST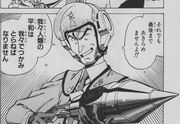 Ide appeared in this manga and like the main characters, his role was the same. In the later arcs of the manga, he was tricked by Fuji, who, unbeknownst to him, was possessed by Alien Baltan since the first Baltan case, into putting Anti-Specium plates into the rocket that Hayata was riding.

Gallery
Ultraman
Trivia
He has the honor of being the first character to break the fourth wall.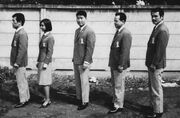 Susumu Ishikawa originally got the role of Ide but he left during the shooting of Ultraman. Hence, Masanari Nihei was chosen to replace Ishikawa as Ide.
In Kazuo Umezu's adaption of Ultraman, Ide appeared more cartoony compared to the rest of the SSSP crew, notably his large cartoony eyes with smaller eyelashes and oval button nose.
References