Marina of the Wind (風のマリナ Kaze no Marina) is the thirteenth episode of Ultraman Mebius.
Synopsis
Marina is on her day off, but Mukadender has arrived to terrorize the countryside.
Plot
Mukadender appears and eats a camper. During the day, Marina takes off and goes on a motorcycle trip with her old racing manager. She sees a person she recognizes jump off a small cliff. He finds a backpack left by the digested hiker, and the woman appears in perfect shape. Her name is Rinko, who easily defeated a guy who was bullying Marina at the GUYS aptitude test.
She tells Marina she discovered the backpack with everything inside intact. They then hear gunshots as a hunter is swallowed by the beast. They run to where the sound came from and are attacked by Mukadender. They flee into a curiously well lit cavern, and Marina is unable to contact GUYS because of an unusual magnetic wave. However, GUYS Spacy detects the wave and GUYS Japan is sent to investigate.
Meanwhile, Marina-tachi have found an entrance from the cave. They are attacked by Mukadender again, when Marina remembers she has Eleki-Miclas capsule in her case. She attacks with the monster, but his time is soon up. Mukadender launches fire at them, knocking the humans down, and injuring Rinko.
Marina guides them back to the river, assisting Rinko. Just then, Mukadender arrives. Marina goes to her motorcycle to distract him, and he chases her down the highway while the others flee in another direction. GUYs arrives and attacks the monster, and Mirai transforms.
Mebius and the monster battle, and the Ultra manages to defeat Mukadender. Its head survives, but Hikari arrives and destroys it.
Cast
Appearances
Ultras
Kaiju
Home Media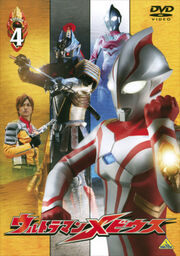 Ultraman Mebius Volume 4 features episodes 13-16.
Community content is available under
CC-BY-SA
unless otherwise noted.