This may not be the article you are looking for. For Ultrawoman Marie, the commander of the Silver Cross Aid, see Mother of Ultra.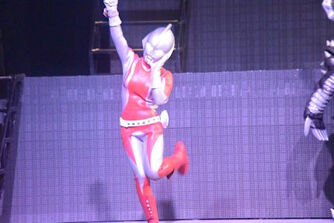 Marie (まりえ Marie) is a female Ultra who exclusively appeared in the stage show, Ultraman Festival 2016 Live Stage Part 2. As the show's MC, she introduces the audience to Ultras when they appear and reacts to the story's events from off-stage.
She has the same name as her human form's actress, Marie Katsuura. Since different performances of the stage show have different actresses playing the MC, the character is also called Haruka or Erie.
History
Ultraman Festival 2016 Live Stage Part 2
Marie is a member of the Silver Cross Aid and was shown around the Land of Light by Mother of Ultra. When Zett and his army of Zettons attacked, Ultraseven instructed her to get to Earth to help Ultraman. After arriving, she found Ultraman, Ultraman Mebius, Ultraman Zero, and Ultraman X were demoralized since their efforts to defeat the endless Zetton army seemed in vain. She compelled the audience to cheer while delivering a heartfelt speech to inspire the Ultras, which motivated them to keep fighting.
When EX Zetton appeared and no Ultras showed up to face it, she transformed into her Ultra form and attempted to fight the monster, but was knocked down. Ultraman Zero and Ultraman Orb then arrived to rescue her.
After the battle is won, she instructs the audience to wave goodbye. Ultraman Festival 2016 Live Stage Part 2
Gallery
Trivia