MAC (short for Monster Attacking Crew) was a fictional defense force formed by Captain Dan Moroboshi in Ultraman Leo.
Team Members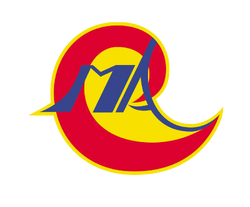 The M.A.C is one of the most radically different Ultra support teams. As mentioned above, the captain is Dan Moroboshi, who is Ultraseven deprived of his ability to transform. MAC also has a flowing membership. Members get killed off and replaced with frightening rapidity. To top it all off, MAC (specifcally all of the Asian headquarters) gets annihilated mid-series (Episode 40). There are bases in orbit above North and South America, Africa and Northern Europe the Japanese one had been destroyed. This is in addition to numerous land-based bases as well.
Leaders
Normal Members
Other Member
Main article: Saburo Sato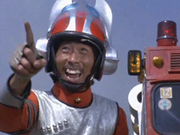 Full name: Saburo Sato
Age: Unknown
Status: Alive
He is a traveller and honorary MAC member. Saburo was given a temporary membership in MAC as he was needed to stop Bango. After Leo defeated Bango, Saburo bids farewell to everyone and departed to Himalayas to search for a Yeti.

Armaments
Wear
Wear: MAC uniforms have high durability and resistance to the heat and the cold. Despite this they can become weathered from battle.
Helmet: Has a built in communications system
Wristwatch Communicator (Name Unknown): A communicator device mounted in the form of a wrist watch. It is worn by off-duty personnel for immediate contact.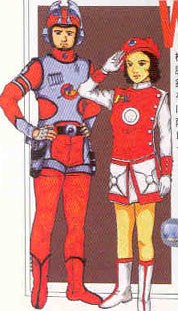 Gallery
Trivia
MAC is the only defense force to have every member (aside from Dan & Gen) killed.

Saburo Sato was also the third member of MAC not killed. However, he was just an honorary member.
Kityama left MAC, but he is still alive.

MAC is the first attack team that was founded by an Ultra.
MAC's uniform was a modified ZAT uniform.
MAC was supposed found by a normal human named Tetsutaro Kawakami instead of Ultraseven's human form Dan Moroboshi (this character also was supposed portrayed by Kohji Moritsugu). However, Moritsugu refused as the people would mistake him for Dan.
In episode 14 of Ultraman Leo, it is mentioned by Kuroda that 8 other MAC members were killed by Antales.
In episode 22, it is mentioned by the communications department of MAC that 3 other MAC members were killed by Garron while another 16 were wounded and not only did the attack team suffered many casualties, it was also nearly destroyed by Garron and Littre after losing so many members.
The car manufacturing company Honda, designed the vehicles of MAC.
Community content is available under
CC-BY-SA
unless otherwise noted.