Line the Barbarian is the titular hero of an independent tokusatsu show produced between 1990 and 2002.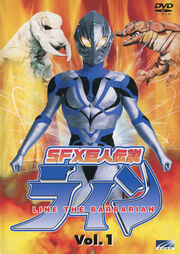 Line is a giant alien hero very similar to Ultraman , though he is not a Tsuburaya creation. 
The monsters in the series are meant as tributes to various Ultra Kaiju.
The suit of the hero is silver, blue, and black in color.
The Series has a total of 13 episodes, with the digitally remastered version having 12. 
Created by Yutaka Arai, who also plays the main character of the show. 
Line has two forms, one of which looks like the traditional Ultraman suit and another, extra muscular form named "Barbarian Mode". 
Unlike the heroes in the Ultra Series, Line does not have a mouth. 
Line does not have a color timer either, so there is no time limit for his fights. 
The defense force of the series is called SAM, which stands for Special Arms Member. 
Forms
Monsters
SAM Members
Community content is available under
CC-BY-SA
unless otherwise noted.