Light of Evil (邪悪の光 Jaaku no Hikari) is the 39th episode of Ultraman Cosmos.
Plot
Having its attempts thwarted many times, Chaos Header goes after Musashi, even invading Treasure Base to take Cosmos' power from Musashi. Ultimately this leads to a confrontation between Cosmos and Chaos Header's new form - Chaos Ultraman.
Cast
Ultras/Evil Ultras
Organisms
Home Media
Ultraman Cosmo Vol 10 features episodes 37-40.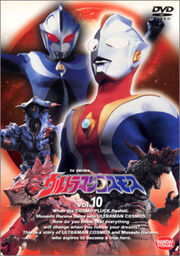 Community content is available under
CC-BY-SA
unless otherwise noted.