The Lieflasher[1] (リーフラッシャー Rīfurasshā) is an object that appeared after episode 1 of Ultraman Dyna. The object served as Ultraman Dyna's transformation item in the later episodes and is used by Shin Asuka, Ultraman Dyna's human host, in times most urgent.
Transformation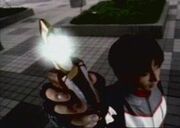 The usage of the Lieflasher begins first at the physical press of a trigger by Asuka, then a mental approval by Ultraman Dyna. The result of Dyna not agreeing to the transformation causes the Lieflasher not to open and can put everyone around Asuka in grave danger. If both sides agree to the transformation, Asuka will usually flick his right wrist, pressing the trigger to the left side of the device. The jewel concealed within the Lieflasher will snap open 180 degrees before emitting a bright, purplish light that envelops the screen. Within a few seconds, Ultraman Dyna will maximize. The Lieflasher is not always present at transformation, as when Asuka's hands are obstructed, he can mentally call upon the Ultra. However, the Lieflasher may become lost, but will not open to anyone unless Asuka is present and is willing to open it. In later transformations outside of the Ultraman Dyna TV series, Asuka will yell "DYNA!" before the Lieflasher snaps open.
Merchandise
The Lieflasher was first released in Japan in conjunction with the first episode of Ultraman Dyna. The toy it self was roughly 6 inches tall, and was able to flick open with the press of a switch. However, the jewel itself emits a green light in a dance-like pattern instead of the purplish light seen in the TV series.

Gallery
Ultraman Dyna
Miscellaneous
References