Killer Dinosaurs are 2 prehistoric animals that were mind controlled by Leader Jericho. One is a Tyrannosaurus, and the other is a Dimetrodon.
History
Dinosaur Squadron Koseidon
Leader Jericho, and his Alien Godmes messenger, came up with a plan to mind control dinosaurs to kill humans. Being peaceful to Alien Godmes, they sent the two to attack an research base, and the beasts absolutely wrecked havoc there. The Koseidon Corps come after them, and successfully destroy the Dimetrodon's control system. However, the T-rex escapes, and is released again to attack the captured kids and Mori, but is stopped by Koseider. The Human Cannon successfully destroy the T-rex's control system, and the freed t-rex frees Mori and the kids from the chain, by biting and dragging it.
Trivia
As the name suggests, these two beasts kill a lot of people.
They would not be the last of mind-controlled dinosaurs.
This evil duo is made out of a theropod dinosaur (T-Rex), and a synapsid/stem-mammal (Dimetrodon) which is not a dinosaur, as it is actually a close relative to mammals.
Data
Killer T-Rex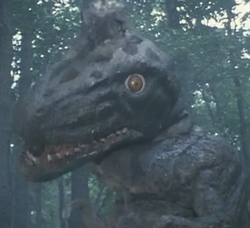 Stats
Height: 2 m
Weight: N/A
Origin: Prehistoric Earth
Powers and Weapons
Jaws: Like normal T-Rexes, the Killer Dinosaur version also has strong bite force.
Gallery