| | |
| --- | --- |
| | Because this Kaiju is a character in the show instead of the monster-of-the-week, it has been given its own article. If you're looking for the main page, see Alien Sturm. |
"(First Monster Name)! (Second Monster Name)! This is the End Mark!"

―Kei's catchphrase when transforming into Belial Fusion Monsters
"All goes well, my lord...master Belial. The power that you bless me with...will allow me to Fusion Rise once again. It's time to deal with the interloper."

―Kei as he met Belial.
Kei Fukuide (伏井出 ケイ Fukuide Kei) was one of the main antagonists in Ultraman Geed. An Alien Sturm servant to Ultraman Belial, he posed as a famous sci-fi writer who masks his cruel and ruthless side under a polite and gentle behavior.
Personality
Not much is known of Kei before joining Belial, but he himself states that he was lost and without purpose until joining his master. Kei is very loyal and devoted to Belial, giving up everything for the Dark Ultra, even his own life, to see his plans come to fruition. In fact, his loyalty goes to the extent where he became devoid of other emotions beside it at his core, even if it's evident that Belial was only using him. While disguising as a human, Kei is shown to have a charismatic side as well, presenting himself as such in public.
He also has a cunning and ruthless side as well, as he was willing to use tricks, kidnapping and ransom to advance with his plans, murdering those who stood in his way. Kei is also willing to backstab anyone who interferes with his plans or when their use has run out.
Kei views Geed and Zero as mere pests in the grand order of things, and furthermore sees the former as nothing but a tool who is unworthy of Belial's genes, despite being his very own creation. His resentments towards Geed prevents him from seeing the extent of Geed's strength and development as a hero and his own person he ironically arranged from behind the scenes, resulting his recurring defeat at hands of the young Ultra Warrior.
History
Pre-Ultraman Geed
Kei Fukuide was previously an Alien Sturm who lacks a purpose (even referring himself as an empty shell) until his encounter with Belial changed his life. Since then he pledged his loyalty to the dark Ultra and helped him with his conquest over the universe. Kei was one of the participants of the Omega Armageddon alongside Belial, the Darkness Five and Belial's new army, called Terror The Belial against the Ultra Warriors in a heated battle which held the universe fate at stake.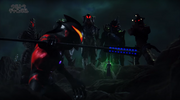 In aftermath of the Crisis Impact, Kei broke into the Land of Light and stole Hikari's Ultra Capsules. Aside from the creation of Riku Asakura (through Belial's DNA sample), Kei spread the Carellen element to attract Childhood Radiation and merged them to Earth life forms as Little Stars.
Kei targeted the first Little Star in the form of Laiha Toba by attacking Mt. Mitsuse as Skull Gomora which led to her parent's death. However her fear revoked her abilities and the Little Star faded away.
Ultraman Geed
Six years later, he transformed into the same monster and attacked Hoshiyama thrice, targeting Eri Hara's Little Star before Ultraman Geed appeared for the first time and defeated him. Seeing Geed's involvement, Kei decided to make the Ultra part of his own plans onward, orchestrating or observing monster attacks from behind the scene as Riku harvested the Little Stars. With Zero appearing to investigate the disappearance of Ultra Capsules, Kei staged an attack via Galactron, holding both his fans and Geed as hostages while forcing Zero to sacrifice his own life. Although Zero revived afterwards with a new form, Kei started to take interest in the turn of events.
"Ultraman Geed! Being forced to strike someone who looks so much like master Belial is nauseating! You don't deserve master Belial's favor! I do! I am better than you!"

―Kei Fukuide, episode 11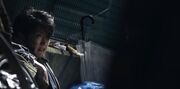 After his presence caught the attention of AIB (who in turn discovered Belial's location), Kei hastily tried to take Riku's Capsules by force, first using the hired assassin Alien Bado and later on transforming into Pedanium Zetton. Due to his failure in securing all collection (accidentally leaving behind a Capsule (Zero) to the boy) Kei plunged the remaining sets into his conversion organ and transform into Pedanium Zetton again as a comeuppance. Fighting against Geed Magnificent, the combination of the Capsules' powers and his jealousy for Riku turns him into a mindless maniac who repeatedly throws tantrum towards his own creation before being subjected to defeat. Although he loses the Capsules, Belial was more than satisfied with the result while allowing him to rest.
"That's right! That's who I lost... master Belial! He gave me purpose when I was nothing but an empty vessel, a hollow existence! And now he's gone... He's gone!"

―Kei as he regains his memories from Dada's Legionoid.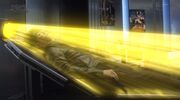 Still injured from his past battle, Kei returned to Earth and witnessed Belial's defeat. After this, Kei suffered amnesia as a result of his injuries, and found himself on the run (for killing his editor) from the authorities, AIB and the Ultras alike. An assassination attempt from a Dada restored his memory as he contemplated to inherit Belial's mantle while finding refuge under the non-fiction writer Arie Ishikari. Inheritor of the Dream During a temporary takeover in the Nebula House, Kei recuperated from his injuries and attempted to exploit RE.M. before being kicked out. Nonetheless, he had unlocked the safety protection in RE.M.'s data-bank, allowing her access the repressed information that Belial left. Nebula House Invasion
"Master Belial...I will always be on your side."

―Kei's final words
Reclaiming the Kaiju Capsules of Dark Lugiel and Alien Empera from AIB after using Arie as bait before killing her, Kei went to Okinawa to permanently strengthen his Sturm Organ by absorbing his homeworld's light and calling forth Riku to settle their feuds. After his loss, Kei meet Belial, revealing himself to be possession of Arie and tearing out his Sturm Organ to revive himself once again. Kei then leaped into the sea while Zena and his agents pursued him.
Severely weakened by the loss of his Sturm Organ and left with a few days to live, Kei continued to pledge his loyalty to the dark Ultra. While Geed fought Belial in a climactic final battle, Kei attempted to ambush Leito Igaguri's family, but he drew out his last breath during a swordfight with Laiha, who arrived to protect the humans. Before vanishing into green particles, Kei questioned whether he was just a pawn to Belial.
Profile

Stats
Transformation
Like Riku, Kei is capable of performing Fusion Rise to transform into Belial Fusion Beasts by scanning two Kajiu Capsules with his Riser.
Powers and Weapons
Capsules in Possession
Kaiju Capsules
Ultra Capsules
As of episode 11, Kei stole all but one Ultra Capsule (Zero) from Riku Asakura after his defeat as Geed. By injecting them to his body, his conversion organ can corrupt its powers to transform him into Pedanium Zetton until its destruction cause them to scatter around the city before Riku and his friends recollect them.
Novels
As a famous sci-fi writer himself, Kei has multiple works in his novel. Among the identified titles are:
Trivia