Katsumi Kajio (梶尾克美 Kajio Katsumi) is a character in Ultraman Gaia. He is the leader of Team Lightning.
Personality
Kajio has high pride and absolute confidence in the handling, but he had a fairly high elitism first time around. Kajio never amused when Gamu joins XIG due to him being a student. Kaijo surprisingly terrible at socializing. Due to this, he always went away from everyone, though there was little able to converse with others on a mission other than the initial. He develops a relationship with Atsuko's sister, Ritsuko.
History
Little of Kajio's pre-XIG experience is revealed throughout the story, besides that he used to be an elite of the Defense Force.
Merchandise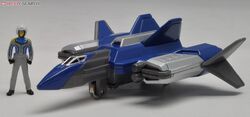 XIG Fighter SS (Popynica Plus Series, 2000)

Release Date: August 2000
Price: 1,540 yen
JAN/ISBN: 4902425761411
Materials: PVC, ABS
Accessories: Katsumi Kajio figurine, XIG Emblem Badge
The Popynica Plus Series XIG Fighter SS comes with an XIG Fighter pilot figurine representing Kaijo himself.
Gallery