Kaimanda (カイマンダ Kaimanda) is a Terrible-Monster that appeared in the TV series, Ultraman Ace.
Subtitle: Evil-god Terrible-Monster (邪神超獣 Jashin Chōjū)
History
Ultraman Ace
Kaimanda is a Terrible-Monster that was brought to life when Shinda's dad played his bongos to punish the people who did not worship the traditional lion dance. He then began rampaging through the city with the Terrible-Monster Shishigoran. Hokuto became Ultraman Ace and began attacking Kaimanda, but he was ambushed by Shishigoran from behind. Ace tried to fight back, but Kaimanda and Shishigoran double-teamed him and beat him down. Ace managed to destroy Kaimanda with the knuckle beam, now only Shishigoran remained. Winter of Horror Series - Ghost Story! Lion Drum
Trivia
Data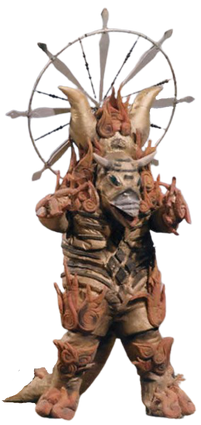 Stats
Height: 61 m
Weight: 10,000 t
Origin: Yapool's Alternate Dimension
Weakness: If the object on Kaimanda's back is removed, he loses all his pyrokinetic abilities.
Powers and Weapons
Pyrokinetic Abilities: Kaimanda can perform various flame-based abilities.

Fire Stream: Kaimanda can emit a deadly stream of fire from his mouth.

Twin Tails: Kaimanda has two lion-like tails that he can use to bash his enemies with.
Curse: Only mentioned but Kaimanda can curse anyone he wants.
Merchandise
Gallery
Ultraman Ace