Inheritance of Shadows (影を継ぐもの Kage o Tsugu Mono) is the forty-fourth episode of Ultraman Tiga.
Plot
The mysterious man inherited the genes of an ancient race of people like Daigo. The man steals the Sparklence and transforms into Evil Tiga.

Cast
Main Cast
Guest Actors
Suit Actors
Appearances
Ultras
Kaiju
Home Media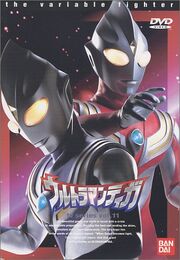 Ultraman Tiga Volume 11 features episodes 41-44.
Trivia
This episode was later featured in Ultraman Retsuden episode 11 "Clash! Tiga vs. Evil Tiga!!".
The name of this episode is contrast to the name of the first episode of the series.

In 2019, a fan asked writer Chiaki J. Konaka of why the episode title was named as "Inheritance of Shadows" as the word "shadow" was used instead of the "darkness". The writer replied that this is because while Evil Tiga is the episode's antagonist, he isn't "evil" by natural means and is still a genuine Ultraman at that.[1]
References