I am the Monster (ボクは怪獣だ〜い Boku wa Kaijūda~i) is the thirty-ninth episode of Ultraman 80.
Plot
The kids were playing baseball and the UFO falls near them. The UFO disintegrates and an egg appears. One of the kids swallows the egg and is transformed into a monster. He at first enjoys his new powers but these powers have negative consequences due to the egg actually being a space plant seed. Ultraman 80 has to go into his stomach and defeat the space plant in order to return the boy to normal.
Appearances
Ultras
Kaiju
Home Media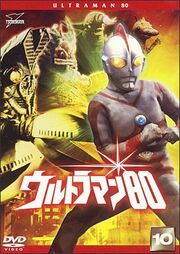 Ultraman 80 Volume 10 features episodes 37-40.