I Am an Earthling (わたしは地球人 Watashi wa chikyūjin) is one of The Final Chapters episodes of Heisei Ultraseven.
Plot
TBA
Cast
Guests
Mitsugu Ijuuin (伊集院貢

Ijuuin Mitsugu

): Kazumasa Seki (瀬木一将

Seki Kazumasa

)
Nonmalt (ノンマルト

Nonmaruto

): Noriko Watanabe (渡辺典子

Watanabe Noriko

)
Suit Actors
Appearances
Ultras
Kaiju
Home Media
Changes from the original Laserdisc and VHS cut
The usual opening credit sequence (from most 99 OV episodes) replaced the one (which only had only few credits) that superimposed the excavation scene.
Some background music were replaced in the DVD cut.
Some scenes missing from the original cut were included in the DVD, including:

A disguised Nonmalt, after Zabangi's defeat, informing Ultraseven that he was "no longer exist" in the universe before banishing for the final time
Kazamori being reunited by his teammates after his separation from Dan/Ultraseven.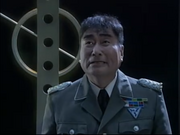 The scene where Furuhashi watched Ultraseven leaving after the former shouted the latter's human form's name was not included in the DVD release.
The epilogue, wherein Ultraseven was about to face trial for breaking the laws of the universe, was extended. 
Trivia
Originally, Shoji Nakayama, the actor who portayed Kiriyama of the original 1967 series, was slated to appear in this episode. However, he died during the production leading the producers to have the character killed off off-screen.
Despite being appeared in this episode, Furuhashi wasn't shown in the main character's gallery in the back of home video releases, presumably to keep it a secret until the later part of the episode. However, his actor's name was included in the casting list.
The LD and VHS release included majority of the main characters (Dan, the UG and Kaji), alongside the disguised Nonmalt, and the scene where Dan was confronted by the said Nonmalt.
Community content is available under
CC-BY-SA
unless otherwise noted.