I'm Pirika
(私はピリカ
Watashi wa Pirika
) is the twenty-fourth episode of
Ultraman Taiga
.
Synopsis
Woola has finally come to Earth. The Tri-Squad face their greatest challenge yet.
Plot
Tregear called a monster from the space. Its name is Woola, the Space Devouring Monster, who would eat everything that exist! Woola coming to earth means the earth will come to an end. At the same time, Pirika is acting strange. What is the secret of Pirika revealed by Kana? Taiga and Hiroyuki fight against Woola to stop the crisis and restore peace.

Tri-Squad VoiceDrama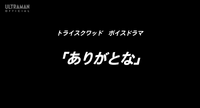 Thank You (ありがとな Arigato na)
The Tri-Squad reflect on the adventures they had together as they prepare to enter the final battle.

Cast
Voice Actors
Suit Actors
Appearances
Ultras
Kaiju
Community content is available under
CC-BY-SA
unless otherwise noted.