Hophop (ホップホップ Hoppuhoppu) was the guardian monster of codenamed Adam and Eve (アダム とイブ Adamu to Ibu). They appeared in episode 35 of Ultraman Max.
Subtitles:
Hophop: Guardian Nebula Beast (星雲守護獣

Seiun Shugo-jū

)
Adam and Eve: Small Nebula Beast (星雲小獣

Seiun Shōjū

)
History
Ultraman Max
When an alien world within Nebula M32 was destroyed millions of years ago, Hophop and two children somehow escaped and were flung across the universe. The people of that world saw their end and created Hophop to act as the guardian of two children who would rebuild their species elsewhere in the universe. For eons the guardian and its children traveled until Earth's gravity pulled them in. As the atmosphere evaporated the ice that encased them, the guardian and the two kids were separated and landed in different locations. While the children were recovered by a young boy, Hophop was carted off to a research facility where her body was discovered to be more suitable for Venus than the Earth. It didn't take long for Hophop to awaken and go on a rampage, smashing through the complex and laying waste to anything before it in search for its missing charges. Team DASH tried to attack it, but its body was super heatconductive and set fire to its surroundings and launched its own counterattack against the DASH Birds. Kaito and Mizuki eventually managed to find the two children who had adopted Hophop's charges, but it was too late to stop the rampage. Ultraman Max had to be summoned into battle. The adult fought hard against the hero that wished it no harm. Latching onto his arm and his head with its duck-like bill, Hophop forced Max down. When attempting to use the Maxium Sword, it bounced right off its armor plates, doing little more than aggravating the already angry guardian, but the end of the battle was near. When managing to push Hophop back, Max recovered the babies and showed them to the caretaker. Hophop was instantly calmed as its children flew to it. It laid on the ground, allowing Ultraman Max to hoist it into the air and take it to Venus where its children would act like the Adam and Eve to a brand new world for their kind.
Trivia
Data
Hophop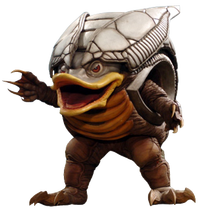 Stats
Height: 26 cm ~ 51 m
Weight: 1.5 kg ~ 53,000 t
Origin: Nebula M32
Powers and Abilities
Energy Blasts: Hophop can fire missile-strength blasts of energy from the shield plates on its body.
Shield Plates: Hophop's top and front part of its body is protected by a pair of shield plates that can bounce energy and physical attacks off with little trouble.
Thermokinesis: By increasing the temperature of its shield plates, Hophop can increase the temperature of the area around itself. It can make it so hot that its surroundings will actually catch fire.
Children Sense: Hophop can sense the children from miles away.
Adam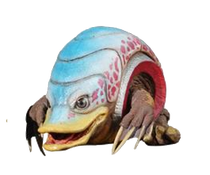 Stats
Height: 24 cm
Weight: 1.3 kg
Origin: Nebula M32
Powers and Abilities
Time Acceleration Control: Adam can increase the speed of objects that they are traveling on, allowing things like bicycles to move at blinding speeds.
Gallery