Haruki Natsukawa (夏川 遥輝 Natsukawa Haruki)[1][2] is the main protagonist of Ultraman Z and is the human host of the titular Ultra Hero. He works as a rookie pilot in STORAGE.
Personality
Haruki is polite and a natural-born athlete. He faces everything head-on and has an extremely strong sense of justice. Although he holds conflicting ideas about "lives to be protected" and "beings to be killed", he continues to move forward while fighting together with Ultraman Z.
History
Past
When Haruki was still in his elementary school years, Giestron attacked for some reason. His father went off to help other people, but never came back and lost his life in the process, leaving Haruki's mother to raise the boy by herself. The incident haunts Haruki to this day.
Ultraman Z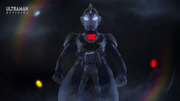 Haruki was eventually employed at STORAGE, and is the latest addition to the team. While assigned to pilot Sevenger, Haruki was killed in a battle against an extraterrestrial monster, but Ultraman Z arrived and bonded with Haruki to revive him, after which they both defeated the monster. Chant My Name!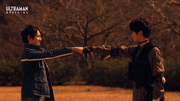 Haruki met with Riku Asakura, who chased down Gillvalis to Earth, cooperating with him to defeat it. After the battle, Riku explained who he was and that he was investigating the Devil Splinters, which Z never told Haruki about. The Man Returns! Later on, Haruki went to rescue Riku when he was abducted by the Valis Raiders under Celebro/Shinya Kaburagi's control, to extract the Belial Factor from him and create the Belial Medal, allowing the villain to transform into various Belial Fusion Monsters. After defeating them with the help of Ultraman Zero, Haruki sent Riku off, as he went to fight other monsters rampaging throughout space because of the Devil Splinters, and made a promise between each other to continue to protect the Earth. His Majesty's Medal
Red King A appeared while Haruki went back to his hometown on the anniversary of his father's death. He fought Red King as Ultraman Z and killed it, before Red King B appeared as well. Haruki realized that they were simply protecting their egg from human activities, and suffered from guilt from his previous killings as a result, having been reminded of his own father's deeds. He protected Red King B and its egg from King Joe STORAGE Custom's Pedanium Particle Cannon and allowed the monster to retreat underground. What Must Be Defended
Still being affected by his trauma, Haruki was also hesitant to fight against Grigio Raiden, when he saw it crying in pain from being modified into a biological weapon. This causes him to lose his fighting spirit and be defeated by the monster twice, while Yoko killed it using King Joe. The Cry of Life
Profile
Stats
Transformation
Haruki sets his Ultra Access Card into the Z Riser before sliding the blade and pressing on the trigger.
Transforming in this manner allows Z to possess Haruki's body and fight human-sized opponents. However, Z can only remain transformed for roughly 50 seconds as the transformation puts a heavy burden on Haruki's body.[3]
Haruki sets his Ultra Access Card into the Z Riser and then places three Ultra Medals in the slots before sliding the blade and pressing on the trigger. He says his signature catchphrase for each form before transforming.
"Space Martial Arts, the Inherited Fighting Technique!
Master Zero! Master Seven! Master Leo!
'Kay!"

―Activation announcement for Alpha Edge
The rise scene starts with Z emerging from a blue and red background with sparks circulating around him, similar to Ultraseven's transformation scene. As he gets closer, a splash of cyan light appears like in Leo's rise scene before red and blue ribbons of light appear like in Zero's transformations.

"Burn in Scarlet Flames, the Power of Courage!
Brother Ultraman! Brother Ace! Brother Taro!
'Kay!"

―Activation announcement for Beta Smash
The background is torn open to reveal a red one like in the opening of Ultraman, before changing to a smoky red background that periodically flashes white similar to Ultraman's rise scene. It is replaced by a fiery background with Taro's ring of light appearing before changing to a blue background with streaks like Ace's rise.

"Phantasmagoria, the Mystic Lights!
Mr. Tiga! Mr. Dyna! Mr. Gaia!
'Kay!"

―Activation announcement for Gamma Future
Gamma Future's rise consists of the backgrounds from the title cards for each component's respective show: a purple background with rotating shards from Ultraman Tiga, then a swirling purple and pink background from Ultraman Dyna, ending with the fiery spiral from Ultraman Gaia.

Powers and Weapons
Self Defense Skills: Haruki is said to be a master of Karate and is athletic in unarmed combat. This also makes him the subject of Hebikura's constant training drills.
Piloting: While still a rookie, Haruki at least has the necessary skills in maneuvering an SAA unit.
Beam Rifle: Standard armaments of STORAGE officers in the combat field.
Z Riser (ゼットライザー

Zetto Raizā

): Haruki's transformation device, which he uses in conjunction with his personal Ultra Access Card and Ultra Medals to become Ultraman Z.

Hero's Gate (ヒーローズゲート

Hīrōzu Gēto

): Through the Z Riser, Haruki can open a dimensional gate that provides entrance to the Inner Space.[1] According to Z, 1 minute inside the dimension equals a second in the real world.

Ultra Medals (ウルトラメダル

Urutora Medaru

): The Ultra Medals are used in conjunction with the Z Riser to transform him into Ultraman Z.
Z Holder (ゼットホルダー

Zetto Horudā

): A device which Haruki stores his Ultra Medals in.
Ultra Access Card (Haruki) (ウルトラアクセスカード ハルキver.

Urutora Akusesu Kādo Haruki Bājon

lit. Ultra Access Card Haruki ver.)[4]: The card which bears Haruki's name and image, which he sets into the Z Riser as a means of authorization.
Ultra Medals in Possession
Gallery
Trivia
His catchphrase "'Kay!" (押忍

Osu

) is a greeting used by practitioners of Japanese martial arts.
Haruki has hay fever, which is triggered by pollen in the air.
References
Community content is available under
CC-BY-SA
unless otherwise noted.