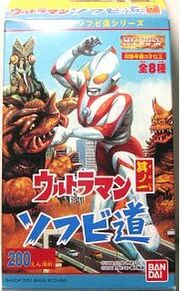 Ultraman Sofubi Dou (ウルトラマン ソフビ道) is one of the sublines for HG Ultraman Series and it focuses on soft vinyl figures in the size of 10cm.
Lineup
Part 1
Release Date: December 2001
Ultraman (A-Type)
Ultraman Tiga (Multi Type)
Ultraman Cosmos (Luna Mode)
Bemlar
Baltan Seijin
Neronga
Eleking
Kanegon
Part 2
Release Date: April 2002
Ultraman Cosmos (Corona Mode)
Ultraman Cosmos (Eclipse Mode)
Ultraseven
Ragon
Greenmons
Guesra
Antlar
Metron Seijin
Part 3
Release Date: July 2002
Ultraman Jack
Magular
Pigmon
Red King
Chandlar
Booska
King Joe
Beacon
Part 4
Release Date: October 2002
Ultraman Ace
Ultraman Justice (Standard Mode)
Gabora
Jirass
Gango
Kemur Man
Guts Seijin
Jumbo King
Part 5
Release Date: May 2003
Ultraman Taro
Father of Ultra
Dodongo
Mummy Man
Pestar
Zetton
Hipporito Seijin
Temperor Seijin
Part 6
Release Date: August 2003
Ultraman Cosmos (Future Mode)
Ultraman Justice (Crusher Mode)
Ultraman Legend
Ultraman King
Gloker Pawn
Gloker Rook
Gloker Bishop
Part 7
Release Date: May 2004
Ultraman Leo
Ultraman (Type-B)
Ultraman (Type-B, Teleportation ver.)
Gamakujira
Gavadon (Type-A)
Gavadon (Type-B)
Baltan Seijin (Generation 2)
Limited Editions
Baltan Seijin Clear Blue ver. (Hyper Hobby 2003 April issue exclusive)
Gallery
NOTE: All images courtesy of biglobe.ne.jp.

Community content is available under
CC-BY-SA
unless otherwise noted.