Guroro (グロロ Guroro) is an Iguanodon foot soldier of Ururu introduced in Dinosaur Great War Izenborg.
History
Dinosaur Great War Izenborg
Guroro was an aquatic foot soldier of Ururu sent to disrupt a gathering of humans celebrating a new rocket-powered blimp.
Trivia
Guroro's species is an Iguanodon, but yet it spits gunk like a Dilophosaurus does in Jurassic Park canon.
Data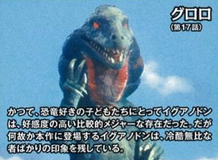 Stats
Height: 45 m (est.)
Weight: N/A
Origin: Dinosaur Kingdom
Powers and Weapons
Acidic Spit: Located in his giant glands on his neck, Guroro can fire liquid he can mentally control and dissolve matter.
Fire: Guroro has the ability to breath/blast a stream of fire from his mouth.