Guroro (グロロ Guroro) is an Iguanodon foot soldier of Ururu introduced in Dinosaur Great War Izenborg.
Stats
Height: 45 m (est.)
Weight: N/A
Origin: Dinosaur Kingdom
History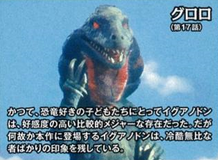 Guroro was an aquatic foot soldier of Ururu sent to disrupt a gathering of humans celebrating a new rocket powered blimp.
Trivia
Guroro's species is an Iguanodon, but yet it spits gunk like a Dilophosaurus does in Jurassic Park canon.
Powers and Weapons
Acidic Spit: Located in his giant glands on his neck, Guroro can fire liquid he can mentally control and dissolve matter.
Community content is available under
CC-BY-SA
unless otherwise noted.