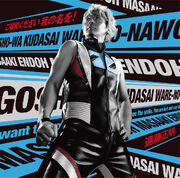 Goshowa Kudasai Ware no Na wo! (ご唱和ください 我の名を! Goshōwa kudasai ware no na wo! lit. "Chant My Name!") is the opening theme of Ultraman Z.
Arrangement: Kyoichi Miyazaki (KEYTONE), Ryota Iida (KEYTONE)
Lyrics, Composition, and Artist: Masaaki Endo
Lyrics
Original Japanese Lyrics
Japanese Transliteration
English Translation

ご唱和ください 我われの名を
ウルトラマンZ!!

一番大事なモノいったい何だい?
この命と引き換えにでも守ってやるぜっ!
誰の為にこの力はあるんだい?
本当の優しさの意味を探している

退屈持て余して蔓延る宇宙人
刺激求めて蘇る巨大怪獣
平和を乱す奴らは許さない
ハリーアップ! 我の名を叫べ! Z!

この地球を守りたい
その笑顔が見たい
傷つき倒れてもかまわない
強く 優しく
ウルトラマンZ! !



Goshouwa kudasai ware no na wo
Urutoraman Zetto!!

Ichiban daiji na mono ittai nandai?
Kono inochi to hiki kae ni demo mamotte yaruze!
Dare no tame ni kono chikara wa arundai?
Hontou no yasashisa no imi wo sagashiteiru

Taikutsu mote amashite habikoru ALIEN
Shigeki motomete yomigaeru kyodai MONSTER
Heiwa wo midasu yatsura wa yurusanai
Hurry up! Ware no na wo sakebe! Z!

Kono hoshi wo mamoritai
Sono egao ga mitai
Kizutsuki taoretemo kamawanai
Tsuyoku yasashiku
Urutoraman Zetto!!

Chant my name with me
Ultraman Z!!

What is the most improtant thing to you? (what is it)
Would you trade your life in order to protect it! (Zett)
Who did you gain this power from? (who was it)
In order to find true kindness

Out there there are bored overpowered aliens
Who revive monsters for a bit of fun
Those who disturb the peace cannot be forgiven
Hurry up! Call out my name! Z!

I want to save this planet
I want to see you smile
It doesn't matter if I get hurt and fall
I will be strong, I will be gentle
Ultraman Z!!

Trivia
Community content is available under
CC-BY-SA
unless otherwise noted.