Gorgosaurus  (ゴルゴザウルス Gorugozaurusu) was a kaiju that first appeared in Mirrorman and later in Ultraman Taro.
Subtitles:
Mirrorman: Huge Star-beast (巨大星獣

Kyodai Seijū

)
Ultraman Taro: Space Monster (宇宙怪獣

Uchū Kaijū

)
History
Mirrorman
Gorgosaurus
TBA
Trivia
Beta
TBA
Ultraman Taro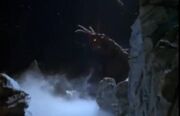 Kotaro Higashi detected a monster coming towards Earth, so he transformed into Ultraman Taro and launched a counter attack to an icy planet to fight the beast to prevent it from destroying the Earth. During their fight, Gorgosaurus managed to gain the upper hand against the ultra by turning himself invisible. It worked for a short period of time, but then Taro used his Eye Beam to expose the monster and then he destroyed the saurian beast by decapitating him with a Beam Shuriken before he can turn himself invisible again. However, this fight left Taro exhausted and his left hand injured and he planned on going back to the Land of Light to heal, but instead went back to Earth and ZAT to combat another threat that was about to befall Earth.
Trivia
The Gorgosaurus II suit was not reused from Mirrorman but actually a suit used during attractions.
In Malaysian subtitles, Gorgosaurus II is misidentified as Gongoros.
In this series his roars are reused from Dangar and Alien Hipporit.
Data
Gorgosaurus
Stats
Height: 50 m
Weight: 40,000 t
Origin: Planet X
Powers and Weapons
Flame:
Heat Rays: Gorgosaurus can fire heat rays from his mouth.
Burrowing: Gorgosaurus can burrow underground.
Gorgosaurus β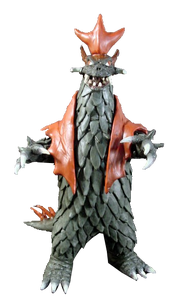 Stats
Height: 48 m
Weight: 38,000 t
Weight: TBA
Origin: Planet X
Powers and Weapons
Heat Ray: Gorgosaurus β can release high temperature heat from the red fin on his head.
Other Media
Mirror Fight
Gorgosaurus appeared frequently in the Mirror Fight series.
Gallery
Community content is available under
CC-BY-SA
unless otherwise noted.