Gorgosaurus  (ゴルゴザウルス Gorugozaurusu) was a kaiju that first appeared in Mirrorman and later in Ultraman Taro.
Subtitles:
Mirrorman: Huge Star Beast (巨大星獣

Kyodai Seijū

)
Ultraman Taro: Space Monster (宇宙怪獣

Uchū Kaijū

)
History
Mirrorman
Gorgosaurus
Sent by an Invader saucer firing a beam into it a volcanic fault, Gorgosaurus burst from the ground to find the Jumbo Phoenix in front of him. The monster did not move from its spot for the hours that followed. The next day Mirrorman went looking for Jumbo Phoenix and accidentally alerted Gorgosaurus. The giants quickly clashed with the hero avoiding Gorgosaurus's flames while the monster clawed away at Mirrorman. Soon after, Gorgosaurus was joined by his brother, Mayasaurus, who started spewing radioactive gas. After a Mirror Knife severed his cranial horn, Gorgosaurus retreated underground. Mirrorman dragged Gorgosaurus out of the ground to throw him around and eventually beheaded with the Mirror Kick.
Trivia
His suit would later be modified into Oil Drinker.
Gorgosaurus reuses the Zumbolar roar with an echo effect.
Gorgosaurus β
Gorgosaurus β was the brother of the original. He first emerged from the ground near an Invader saucer with their hostage, a boy named Yoshio, witnessing the monster's appearance. Shortly after Mirrorman showed up to fight Pair-Mons King β did Gorgosaurus β join in the fight. The monster briefly chased Yoshio and crushed the car he was in beneath his right foot. Shortly into the fight Mirrorman used the Miracle Kick to decapitate both monsters.
Ultraman Taro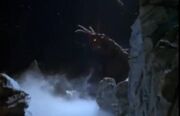 Kotaro Higashi detected a monster coming towards Earth, so he transformed into Ultraman Taro and launched a counter attack to an icy planet to fight the beast to prevent it from destroying the Earth. During their fight, Gorgosaurus managed to gain the upper hand against the Ultra by turning himself invisible. It worked for a short period of time, but then Taro used his Eye Beam to expose the monster and then he destroyed the saurian beast by decapitating him with a Beam Shuriken before he can turn himself invisible again. However, this fight left Taro exhausted and his left hand injured and he planned on going back to the Land of Light to heal, but instead went back to Earth and ZAT to combat another threat that was about to befall Earth. The Monster Master
Trivia
The Gorgosaurus II suit was not reused from Mirrorman but actually a suit used during attractions.
In Malaysian subtitles, Gorgosaurus II is misidentified as Gongoros.
In this series his roars are reused from Dangar and Alien Hipporit.
Data
Gorgosaurus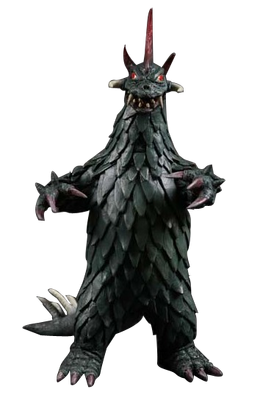 Stats
Height: 50 m
Weight: 40,000 t
Origin: Planet X
Powers and Weapons
Heat Resistance: Gorgosaurus has a high resistance to heat that allows it to withstand volcanic heat for hours on end.
Flames: Gorgosaurus can emit a stream of flames from his mouth.
Heat Rays: Though not shown yet, Gorgosaurus can fire heat rays from his mouth.
Burrowing: Gorgosaurus can burrow underground.
Other Media
Mirror Fight
Gorgosaurus appeared frequently in the Mirror Fight series.
Gallery