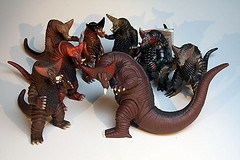 There has been many figures produced of Gomora which are in many figure lines, including the Ultra Monster Series, and the Ultra Egg Series. Bandai's original Gomora figure has 4 points of articulation and some of the older versions had a lot of black coloring until the 2005 Ultraman Max release and the 2007 reissue of the 2000 figure to make their figures of Gomora more accurate (mostly to the Ultraman Max version). The Reionic Burst Gomora figure was recently reissued, probably due to Mega Monster Battle: Ultra Galaxy Legends The Movie, it's common to find and has 6 points of articulation and is accurate to the show appearance. EX Gomora is common to find like the others, same points of articulation and coloring is accurate. Powered Gomora has 4 points articulation although they are a little harder to turn and the coloring is accurate and is made in hard vinyl. It's more rare then the other Gomora figures. In 2013, Bandai released a Gomora figure as one of the Spark Dolls and is #2 in the series, just like 2007's figure. He stands at 5 inches tall. Earth Gomora stands at 11.4 inches, and costs ¥1,600 ($13.35).
Community content is available under
CC-BY-SA
unless otherwise noted.