Gold Satan (ゴールドサタン Gōrudo Satan) is one of the many enemies from the TV series, Mirrorman.
Subtitle: Golden Phantom (黄金怪人 Kogane Kaijin)
History
Mirrorman
Generation I
TBA
Generation II
The second generation was commanded by the Invaders to possess a women named "Shinjuku Rose". TBA
Mirror Fight
Gold Satan appeared in episodes 11 and 18 of Mirror Fight. Stock footage of his fights in Mirrorman were reused in this series.
Trivia
Gold Satan is the first Mirrorman Kaiju to be killed by Mirrorman's Silver Cross.
Design: Yoshiaki Yoneya
His design motif is that of a Oscar statue.
To make Gen II different, it's covered in rhinestones.
Data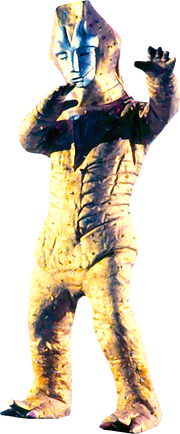 Stats
Height: 43 m, 2.2 m (II)
Weight: 56,000 t, 500 kg (II)
Origin: Planet X → Kitano Lake (II)
Powers and Weapons
Size Change: Gold Satan can turn from the size of a human to the size of a monster at will.
Eye Beams: Gold Satan is capable of shooting laser beams out of his eyes.
Other Media
Mirrorman REFLEX
In the reimagining, Gold Satan's counterpart is called Reiki.
Gallery
Mirrorman
Community content is available under
CC-BY-SA
unless otherwise noted.