Go Beyond the Ultra Brothers! (ウルトラ兄弟を超えてゆけ! Urutora Kyōdai o koete yuke!) is the fortieth episode of Ultraman Taro, and tributes of Ultraman-Ultraman Ace which occurs each time a past Ultra protagonist is preparing to battle Tyrant.
In this episode, the events of Ultraman to Ultraman Ace are listed by the Showa calendar.
Synopsis
While Kotaro is celebrating New Years with a family and teaching a kid named Takeshi how to ride a bike, each of the Ultra Brothers patrolling the planets in the solar system fight a powerful monster named Tyrant, who was created by the souls of defeated monsters.
Plot
On New Year's Day, Kotaro enjoys a peaceful holiday. He meets a boy Takeshi and teaches him how to ride an adult bike. Meanwhile, a powerful monster, Tyrant, created from the best parts of the monsters defeated by the Ultra Brothers, starts traveling to Earth from Neptune, but not before defeating the other Ultras. Though beaten, the brothers send an SOS to Ultraman Taro.
Cast
TBA
Appearances
Ultras
Kaiju
The following are part of the 35 Great Monsters and Aliens tribute: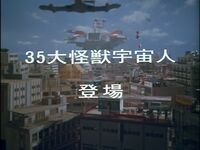 Parts of Tyrant not included in the tributes: Alien Icarus, King Crab, & Hanzagiran
Home Media
Ultraman Taro Volume 10 features episodes 38-41.
Trivia
During the Alien Baltan sequence (in the Ultraman tribute), the narrator talks about the original Alien Baltan's fight, but footage of Alien Baltan II was shown.
According to magazines, Magular was planned to be in the Ultraman tribute, but was cut for unknown reasons.
Ultraseven has no ears, which would appear again in the premiere of Ultraman Leo.
In the 35 Great Monsters and Aliens tribute, several monsters have the roars of other monsters instead of their own. Bemular, for example, has Bemstar's roar while Verokron has Muruchi's roar.