The Gigantes (ギガンテス Gigantesu) are massive apes that appeared in episode 28 of Ultraman Dyna. Originally, they are a race of gigantic Australopithecus that have gone extinct 1 million years ago as the two last member male and female survived till today.
Subtitle: Giant Ape-Man (巨大猿人 Kyodai Enjin)
History
Ultraman Dyna
The male Gigantes was a very strong ape-like monster wishing to get the attention of a female, Gigantes blasted Asuka's plane out of the sky when passing overhead. After the Asuka was discovered by the female, and the ape seemed to be attracted to him more than the male Gigantes, the monster went on a rampage! It left the forest to kill humanity and regain the love of its life. When the two met up, he was denied his love. This drove the male even more and continued its attack. Knowing what the monster wanted, Asuka transformed into Ultraman Dyna and challenged it. Normal strength wasn't enough to contend with such a brute and Dyna turned into his Strong Type.
Even then, however, Dyna had trouble keeping up. He had never faced such a brutal monster before, but when he saw the female was watching, he knew the victor would take her. Knowing that this rampage was caused by the female falling for Asuka, Dyna allowed himself to be thrown around and seemingly beaten. The female, impressed by the battle, took the male as her mate. The pair retreated back to the forest, never to be seen again.
Trivia
Suit Actors: Toshio (Male), Suzuki Rikako (Female)
In early versions of the episode, the females were to look closer to human beings, also being the same size. This was likely changed due to problems of size.
Data
Gigantes (Male)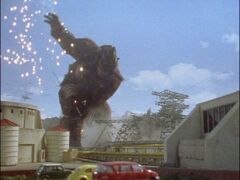 Stats
Height: 56 m
Weight: 58,000 t
Origin: West Asia Forest
Powers and Weapons
Foam: The male Gigantes can fire a stream of foam from his mouth to take down aerial opponents.
Anesthesia Resistance: Male Gigantes can overcome the effects of the Anesthesia drug that used to transquilize animals.
Gallery
Community content is available under
CC-BY-SA
unless otherwise noted.