Gera (ゲラ, Gera) is a Kaiju introduced in the TV series, Ultraman 80.
Subtitle: Gigantic Monster (巨大化怪獣 Kyodai-ka Kaijū)
History
Ultraman 80
Gera originated as a small lizard controlled by the Akuzone, who conquered the dimension of Yomi. He was grown when Takeshi and Jouno infiltrated their base along with soldiers of Yomi. Yamato transformed into Ultraman 80 and had a short battle with Gera, which ended when 80 beamed Gera away, sparing the monster whilst simultaneously preventing his masters from using him for their plans. Shadow Warriors in the Time Tunnel
Trivia
Data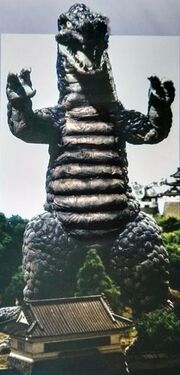 Stats
Height: 30 cm ~ 60 m
Weight: 40 kg ~ 20,000 t
Origin: Akuzone Dimension
Powers and Weapons
Flames: Gera can spew a stream of fire from his mouth.
Gallery
Ultraman 80