Galkimes (ガルキメス Garukimesu) is the first monster/alien fought by Ultraseven X.
Subtitle: Space-Time Lifeform (時空生命体 Jikū Seimeitai)
History
Ultraseven X
Summoned by alien invaders, the giant life form appeared in the city and began to rampage. At first it seemed as though nothing could stop it until a red giant appeared, knocking him down. Although he attempted to put up fight, he was trounced, even the assistance of his allies' spaceship didn't help and he was killed by the Eye Slugger, followed by his allies via the Emerium Beam.
Trivia
Data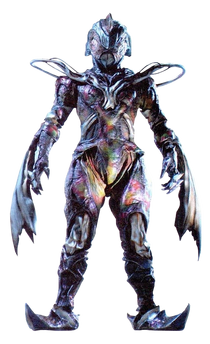 Stats
Height: 40 m
Weight: 60,000 t
Origin: Unknown
Powers and Weapons
Energy Ball: Galkimes can fire green fireball like projectiles he conjures from his hand.
Gallery