Gabishale (ガビシェール Gabishēru)[1] was a Kaiju that appears in episode 9 of Ultraman 80.
Subtitle: Oil Monster (オイル怪獣 Oiru Kaijū)
History
Ultraman 80
A rampaging monster that rose from the ground, Gabishale began to attack oil refineries. After two attacks and after UGM failed to stop the beast, Gabishale made its first assault on a highly populated city. Conventional weapons still proved useless against it, but as soon as Takeshi got the chance, Ultraman 80 was summoned into battle again. The giant of light had to contend with its long tentacle but managed to blow it off with one of his beam attacks before finally killing Gabishale with a hit of his Succium Beam.
Trivia
Data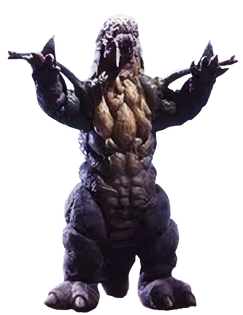 Stats
Height: 58 m
Weight: 33,000 t
Origin: Northeast China
Powers and Weapons
Flame: Gabishale can emit a deadly stream of fire from a emiter under its mouth. 
Long Tongue: Gabishale can extend a long tongue from his mouth that he can use as a whip to lash buildings and foes. 
Oil Suction: Gabishale can use its tounge to suck oil into its body making it stronger. When sucking oil underground, Gabishale uses its flames to burn the oil container and suck oil in its body.
Gallery
References