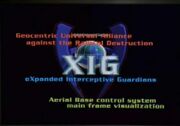 GUARD (Geocentric Universal Alliance against the Radical Destruction) is a united nations defense organization formed to counter the Radical Destruction Bringer, and is the parent organization of XIG.
Overview
When the supercomputer Crisis, created by the Alchemy Stars, warned humanity's extinction by the Radical Destruction Bringer, the United Nations along with the Alchemy Stars formed GUARD. GUARD, with the help of the Alchemy Stars, developed a wide range of facilities, bases, and combat vehicles. The organization would often face political issues and challenges from the media, questioning its reliability.
Creation of the Aerial Base and XIG
Shortly after GUARD was formed, the Aerial Base was built. XIG, a special branch of GUARD was formed.